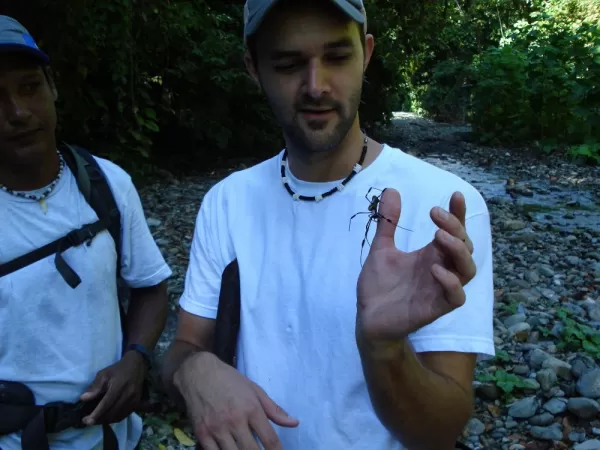 Today we leave the jungle. While I have enjoyed my time here, I am also ready for something new. We are headed to the beach today so I am very excited about that.
After breakfast, we hiked through the jungle to the zipline and canopy tower. The zipline is only 2 zips. It is more to get to and from the tower than for the "adventure of it". Then we rappelled down the tree. The coolest part of this morning was watching Ursula and Eugene, challenge themselves. Both were pretty hesitant to do the zipline. But it was so much fun watching them push themselves to the limits. Ursula even decided to do the rappel which in the end, she loved.
Our transport vehicle came to get us after lunch. Leaving Selva Bananito, you feel like you are leaving family. It was kind of hard to say good bye to Justo because we got to know him so well.
The transfer to Puerto Viejo was long. It only takes about two hours but the roads are not good. First of all, you have to take the bumpy road out of the jungle. Then I think we are all clear and going to be on smooth roads. Not true. The roads near Puerto Viejo are not in good shape. We drove on about 4 blocks of smooth roads and then we would hit about 3 blocks of bumpy, pot holed roads. The baby I could tell did not like this ride. It was pretty rough.
I was so excited to get to Cariblue. Cariblue is very nice. It has a very "Caribbean" feel. Our room was okay. We were the first room you come upon on the bottom floor. It was darker than I thought it would be. We decided to grab our guide book and go sit by the pool. We figured out what were going to do the next day, just in case we needed to pre-arrange it (we didn't). Then we just sort of hung out. It was nice to relax by the pool. Kurt had an interesting experience with the bartender. The bartender asked Kurt for a tip telling him that 2 or 3 dollars was not that much of a tip. For us, we felt it was kind of a lot. Here in the states we tip about a dollar every other drink. So for the bartender to ask for a 3 dollar tip off of just a beer, we were a little disappointed.
We decided to just eat dinner at Cariblue. The food was good. We spent the rest of the evening playing a mini ping-pong tournament. This was actually very fun. It was very relaxing and something different from what we would be doing at home.
We were pretty tired from the day so we hit the sack fairly early.