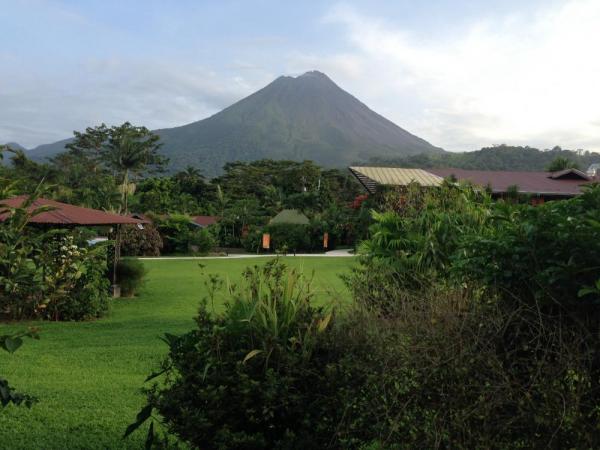 Bright and early we rose to enjoy our last morning in San Jose. The breakfast fare was similar to the day before with few changes to keep it new. Coffee was incredible, once again.
We gathered in the lobby to meet our guide for the day. Edgar quickly found us and made introduction. He also let us know that Victor was going to be our driver again! We were happy to be able to see him in the daylight.
Within minutes of the door closing, Edgar was off to fill us in on the history, beauty and awesome-ness that is Costa rica. A bird and wildlife enthusiast, Edgar was quick to point out toucans, vultures and other various birds as we made our way out of the Central Valley. We soon found ourselves entering the countryside of Alajuela and on our way to Arenal.
It was a lovely drive. I was able to listen to Edgar and Kels talk about post-colonial history as well as the farming culture that once controlled the valley. We drove through coffee fields and learned about the soil. Before too long, we found ourselves in La Fortuna.
Here is a great chance to get outside and stretch before the final kilometers to your hotel. The La Fortuna Waterfall hike is a 500-step journey down (and back up) to view one the larger rainwater waterfalls in the area. The water was much too high to swim in the first pool but we were taken to the smaller pool that led into the river where we could cool down in the humid, sunny weather. The walk back up was steep but the area was beautiful.
After we dried off from our hike, Victor drove us into La Fortuna to have our very first
casado
for lunch at Victor and Edgar's favorite soda. Kels and I both ordered chicken cooked in two different fashions and were soon presented with more food than I can ever eat. Edgar said that Costa Rican food has lots of fresh herbs that contain Vitamin C to help regulate the immune system. I'll take it! It was a lovely meal spent watching the news, discussing the stories and enjoying the open restaurant.
When finished, Edgar and Victor drove us the final few minutes up to our hotel for the next two nights, Arenal Springs. We said our goodbyes, toasted with a complimentary fruit beverage and they were on their way. We would see Victor one more time during our trip.
We soon were welcomed into our lovely cabana overlooking the hotel and, dun dun dun, Volcan de Arenal! We were told we were lucky to see Arenal as often as we did and I believe it. The weather system in Costa Rica lends itself to lots of clouds and we saw plenty!
I was given a quick tour of the grounds and rooms. They had just done a photo shoot of the many features the hotel offers and it was fun to see it all at its best. Our room was perfect, the bathroom had its own little garden, the beds were comfy and had perfect views of the volcano. We headed out to the pool and hot springs located on the hotel's grounds. It was a nice way to spend the rest of the day. The relaxed atmosphere was great and the swim-up bar was especially fun for families and couples alike. We ordered a Guaro Sour and Guaro Sunrise and toasted our chance to spend time in Costa Rica. Tasty!
We had dinner included this evening at the main restaurant. The perk of traveling during rainy season is that it isn't too busy but we were one of two couples in the restaurant and that led to quick service and care. Kels ordered a chef salad, grilled sirloin steak and the largest banana split ever! I had a heart of palm salad, steak au poivre and flan. We were so full and it was hard to clean our plates so we decided to sit outside on our patio to digest.
While out there, a large thunderstorm rolled through and we spent the next hour or so watching lightning and the moon silhouette the volcano. A good first day in Arenal!