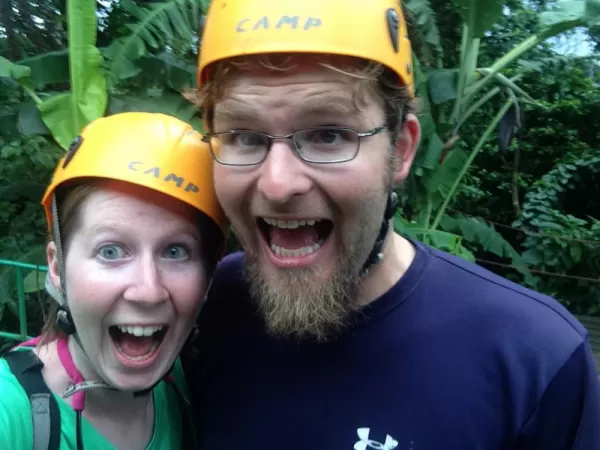 The morning greeted us with a clear Arenal Volcano and animal life.
We packed up for our Arenal Hike and headed to breakfast. A delicious bounty of food awaited us in the main restaurant. It was getting hard to decide where to start. Heat and I don't make for large appetites but I wanted it all! I settled for my new standard: Coffee, juice, eggs, plantains and fresh fruit with the assorted pastry of the day. Yum!
Our guide for our Arenal hike met us in the hotel lobby and we were on our way. We had a bilingual tour so it was fun to hear everything once in English and again in Spanish. We stopped for a bathroom break and began our journey to the Mirador Vista. Our hike was on the easy side so our guide took advantage to explain the volcanic history of the area, the science behind it all and, of course, the plant and animal life.
Once you started climbing up the volcanic rock, Lake Arenal came into view. The landscape provided great prospective to the rich vegetation around Arenal and with one simple turn, you'd be facing the volcano. The Mirador viewpoint provides a great view of the old lava flows. We had a lot of fun looking through our binoculars at the flows while listening to our guide.
We were very lucky on this hike! Of the many coati, whiptail lizards, toads and ants, we saw two of the most poisonous snakes in Costa Rica within 15 minutes of each other! First, it was the Fer-de-Lance. My picture is way zoomed in to her face but we couldn't believe how close to the trail it really felt. So cool! On the way back out, our guide saw a baby yellow eyelash palm pit viper curled up on a tree. WOW. What a way to finish the morning.
We headed back to our hotel to change for our next activity: Zipling!
Now, one of my childhood dreams was to zipline through a rainforest. Finally, I was going to do it and boy, was I nervous. Our shuttle to the Sky Adventures park picked us up promptly at 1PM and we were on our way. A short drive later, we pulled into the parking lot to be greeted by a line of people waiting to get their gear and prepare for the tour. We threw our belongings we couldn't part with in a locker and got in line. Sorry for the lack of photos!
The guides were amazing and so reassuring. They explained how to break and slow down as well as the correct body position to stay in. After the safety talk, we were off!
The ziplines were thrilling. A rush like no other as you flew over the canopy tower. I was hooked. To add the fun, we had two French couples in our main group that I introduced myself to. It was a delight to speak in French again and translate their morbid nerves to Kels. They were having the time of their life and we loved joining in on the jokes and getting to know them. About halfway through, it started to pour and we were all soaked within one cable run. Luckily, this particular cable had juice and coffee waiting for us to warm up with! When the tour finished, we said Adieu to our new friends and headed back to our hotel.
Exhausted and happy, we headed to the pool to wind down for the evening. It was a lovely way to spend our last night in Arenal.