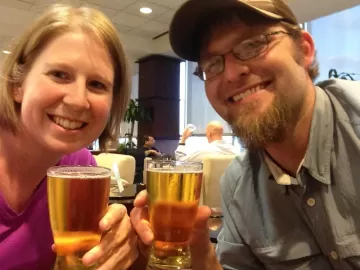 The day has finally arrived! Kels and I were packed and ready to go for our adventure to Costa Rica. We just needed to get through the next 13-hours of airports and planes before our destination was found.
Our three-leg stretch (Missoula > Denver > Houston > San Jose) wasn't full of long layovers but we did have some action. Upon landing in Houston, we had to wait an hour on the tarmac before our gate was cleared by a delayed plane. We made our way to the United Club Lounge to use our two free passes (thanks to a colleague for those!) and enjoyed spending our layover in comfy chairs with free beverages. I could get used to that!
As we neared boarding time, we made our way to the gate to find out that our flight to San Jose had been delayed by an hour and a half because we had no crew! We looked around at our fellow passengers and one man stared back, shrugged his shoulders and said "Pura Vida, eh?" That's when I knew we were close. Pura Vida is a common phrase used in Costa Rica and means "Pure Life" or live life. It became a well-loved phrase during our trip. With sleepy eyes we made it through a plane change, three gate swaps and finally, in our seats to sleep.
We arrived at last to San Jose in the wee morning hours of 3AM. Customs was a breeze and we were quickly greeted by Victor, our patient driver. The drive to the hotel was quick due to lack of cars on the road. Victor helped check us into our hotel before wishing us well and a "see you soon".
Kels and I made it!