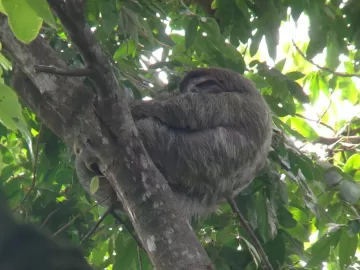 We woke up to another beautiful day in Costa Rica. I can't believe the luck we had with the weather.
We put on our bathing suits, applied as much sunscreen as possible and headed out to go Ocean Kayaking! We picked up a mother/daughter duo from Tennessee along the way and made it to the beach in Quepos to begin our tour. Our guide gave is instructions on paddling, how to approach waves and that we needed to follow him. We were both placed in tandem kayaks for the tour and within just a few minutes, we were off!
After we paddled out of the cove, I dipped my hands into the Pacific and could not believe how warm it was. Growing up in the Northern Puget Sound, the Pacific was always freezing. While I was expecting the ocean to be warm, it was much warmer. I could still feel the difference to the heat of the sun and we continued on.
It was so much fun to be out on the water. It was very calm for the morning and we easily glided across to our destination: Playa Biesanz.
We stopped about 2/3 of the way to the beach to snorkel around a popular rock to try our hand at seeing some fish. I have never snorkeled before and I was prepared to not see too much because the Pacific is so hazy but we had great luck! We paddled over to Playa Biesanz and pulled our kayaks out of the water. Within a few minutes, our guide found us a two-toed sloth hanging out in the tree! We were just watching it when we realized there was something else in the same tree: a three-toed sloth! Our guide was even surprised. He said it is very rare to see both species so close to one another like this. We watched for 20 minutes in awe. I was really wishing I had risked taking my camera but I'm still glad that I didn't drop it in the ocean.
We headed back to the put-in cove and we were all feeling tired by now. The waves were getting choppier and the tide kept pulling us sideways. Kels and I just focused on paddling and enjoyed the ride back to shore. After we cleaned up, we drove a few minutes to the main office of our local guide. They have a restaurant and served us a full lunch! I didn't know this was included in the tour and I was a happy kid. I had the vegetarian option to get some more plantains and was treated further with fresh tomatoes, avocado, cheese and a salad along with the rice and beans. It was so delicious and a great way to end the tour. We also had soursap to drink, a football size fruit that has a rich and delicious inside that is very popular to turn into juice. It was a tasty addition to our meal.
We headed back to our hotel and spent the remainder of the afternoon at the pool and explored the hotel grounds. I had a tour scheduled about halfway through the day and was taken up to the main suites for a 360 degree view of the hotel grounds and could see way over to the Manuel Antonio National Park. We also saw some capuchin monkey's napping on the stone pillars that line the grounds.
We were feeling pretty tired after our kayaking tour so we decided to lay low for the evening. We had happy hour drinks and appetizers for dinner and enjoyed the sunset. We ran into a family we'd met in Arenal and sat and talked about travel in Costa Rica and what it has meant for their family. It was a last big adventure for them before their oldest daughter started college. It was a nice way to spend our last evening in Costa Rica.