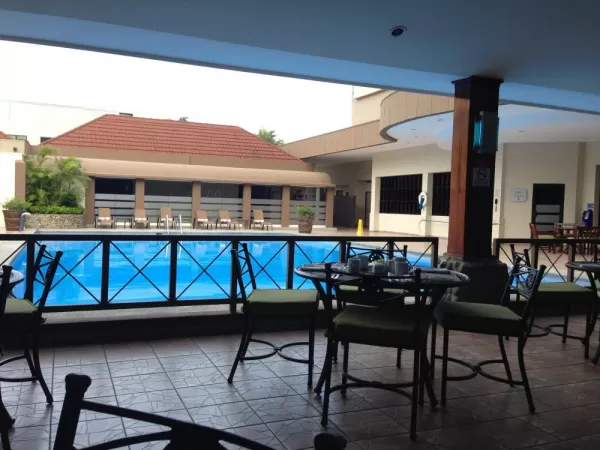 Our first full day greeted us earlier than hoped. Lo and behold our iPhone didn't change time zones so we woke up an hour earlier than we needed. No matter! We enjoyed the first of many delicious breakfast that Costa Rican hotels offer: Omelet bar, cereal, assorted pastries (both sweet and savory) as well as cold cuts and traditional Costa Rican cuisine. To top it off, the coffee was just what we needed to keep us going through the day.
Kels and I parted ways while I had a tour of our hotel. He read by the pool while I was taken to the top floor to see an almost 360 degree view of San Jose. It was there that I saw my first and only glimpse of the Poas Volcano. It was also apparent just how mountainous the country is as well as the hills in the San Jose valley.
The rest of our day was spent in good company. We explored the nearby Sabana Park which was the original airport of San Jose before it became too small. There are still remnants of the flight tower amidst the soccer fields and playgrounds. After some time of exploration, we came back to the hotel to have our guided tour of San Jose. This was led by friend and coworker, Carolina! It was great to see the face of the person I work with everyday through emails, skype and phone. Caro was quick to lead us through the winding streets of San Jose to meet the rest of my office. We were greeted happily by all and were soon spoiled by Caro and Fabio (along with everyone else) with tasty treats and pineapple soda. After a nice visit in the office, Caro decided it was time to explore the many museums of San Jose.
Unfortunately, the National Museum is closed on Mondays and is one of the top recommended places to see. Luckily, the brand new Jade Museum had just opened its doors next door and welcomed us inside. Five floors later, I saw and learned more about Jade than I ever thought I'd know. It was amazing! Jade flutes, needles, animals, tools, etc all made by hand and carved with a mix of stone, water and dirt. Absolutely incredible. We decided we wanted more and made our way to an underground museum of Pre-Colombian gold. This was a great museum oriented toward the Spanish influence that dominates so much of Costa Rica's history.
After our museum tours, we wandered along the busy pedestrian streets, looked into shops and saw lots of hotels. Caro took us to one of her favorite restaurants for a quick snack before heading back to the office. It was a lovely day and I was sad to say farewell to Caro. It'll be nice to see everyone again soon.
Kels and I returned to the hotel and soon decided that we needed second dinner and headed the hotel bar. Little did we know, there was a student group outside in the pool area having one of the coolest experiences! Traditional Costa Rican dance was being demonstrated to a group of about 30 students and their parents. Kels and I both have fond memories of folk dance from our time in Trinidad and Martinique. Storytelling through dance is so powerful and it was a real treat to watch.
When the last song finished, we applauded and decided it was time for bed. We needed to rest up for Arenal!