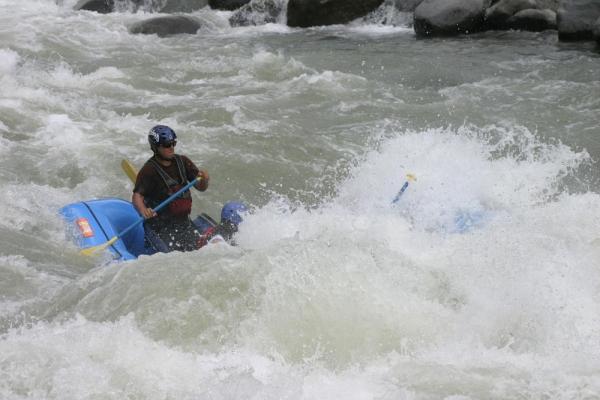 I woke at 6:00am for my 7:30am boat transfer to the Bocas local airport. As Jim suggested, I simply left my bags on my porch, and somebody took them to the boat. I headed over to the main house for coffee and a very light breakfast (toast and bacon) at 7:15am. The Indian guide drove the "long boat" to the airport, along with Renee (who was attending a meeting of the local conservation board on the big island) and a guest that was going scuba diving with a dive shop on the main island. Renee accompanied me on a short cab ride to the airport, and stayed with me until she was sure I had my boarding pass and didn't have any problems. I told her how much I loved this place and their hospitality, which was beyond anything I had ever experienced. They truly have a wonderful thing going, and I hope they are wildly successful in the future: they've earned it, and certainly deserve it.
The short 9:10 flight to Panama City (which is on the Pacific coast, whereas Bocas del Toro is on the Caribbean Atantic coast) was great. A small prop plane, but they actually served these fantastic ham & cheese croissants (still hot), along with glasses of cold orange juice. Better than anything I've had on the big airlines in a long time! I landed in Panama City, and as soon as I left the airport I saw my guide for the day, Rene. Yes, I was safely handed off from Renee to Rene.
We jumped in Rene's KIA van and headed over to the Miraflores Locks at about 10:30am, one of two sets of locks on the Pacific side. We watched some boats make their way through while he explained how the locks worked. Next we moved inside to the museum where he further explained the history. I also watched a 15 minute film (in an air conditioned theater!) about the making of the canal. As we drove off, he pointed out a crocodile in one of the spillways outside the canal. Cool!
I had realized that my flight home was at 7:20am, yet the other driver was scheduled to pick me up at my hotel at 5:30am. That seemed a bit too close for my liking, so I mentioned it to Rene. He called both the tour company and the other driver personally, and moved the time to 5:00am. Much better!
Over the next several hours (until 4:30pm!) we drove all around and saw the new modern Panama City, beautiful Old Panama City, ancient ruins, government buildings, mixed architecture residential buildings (built by workers from different cultures), churches, an impressive skyline and a nice manmade causeway (from canal rocks) to a set of islands. Near this point we stopped for a great seafood lunch at a little restaurant. We both ordered ceviche (a cold seafood soup), and I got the garlic jumbo grilled shrimp (and jumbo was an understatement!). An ice cold beer made the meal perfect.
My only mistake on the entire trip happened after Rene dropped me off at my hotel around 4:30pm, the Country Inn and Suites on Amadore Ave (the causeway). I left my camera bag, some rosary beads and a brochure I bought at the church with the golden altar, and the paperwork he had for me from his travel agency (Tecal Tours, Adventure Life's Panama partner) in Rene's van. Oh well, it was a lousy camera case anyway, and shipping it back to me would cost more than any of it was worth. Given the incredible trip I have had, I'm not going to let something this minor spoil anything.
After getting to the room, I was spent (it was over 6 hours in the sun after all). So I watched the silly but enjoyable movie "Knocked Up". It was better than I expected, and it was in English! At 7:30pm I went down to the T.G.I. Friday's restaurant in the lobby for dinner. It was just too convenient and lazy to pass up. I got a Philly cheese steak and a Mudslide, then went to bed around 10:00pm.