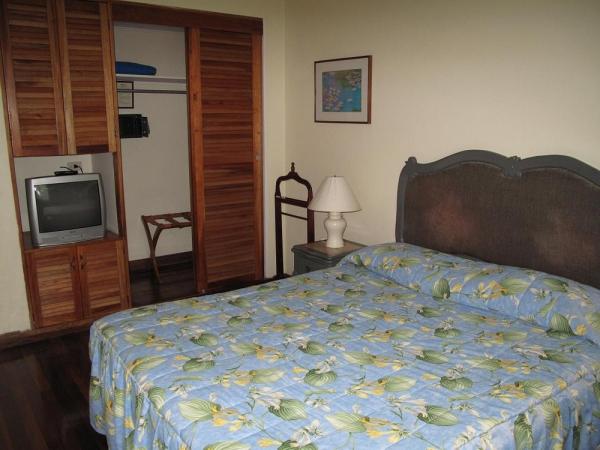 Woke at 5:00am, showered, had coffee, and ready for my 6:20am river rafting pickup! At the front desk, I bought a big bottle of water and converted $100(US) into a good mix of Costa Rican Colons (about $2 for every 1000 colon). At 6:30am a guide from the rafting company, Daniel (aka "Pinky", from the cartoon "Pinky and the Brain"), picked me up at the hotel. In the mini bus were the driver and a young D.C. couple.
We picked up a few more folks and then headed to the rafting base location, about 2 hours away. All along the winding highway, we pass several volcanoes. Deeper into the forest region we start to see little waterfalls along the road. Washouts are very common here.
We picked up "The French People" just before reaching the base (there were 5 of them, playfully coined that by most of us as we tried to get their attention for the safety briefing. They were very excitable!) There we were greeted by several staff and a nice breakfast of rice and beans (everything in Costa Rica has rice and beans!), eggs, cocktail weenies(!) fruit, juice, and coffee.
After breakfast we head out in two big vans to the river. Along the way we were instructed in the 5 commands we would use on the river: forward, stop, back paddle left/right, watch out, and get down. We drove down a bumpy road to the river, but the last half mile was a walk down a steep 4x4 road to the rivers edge.
At the river were 4 boats, a pickup and jeep, three rescue kayakers with full gear, the guides, and several waterproof canisters. We got our helmets, vests and paddles, and wore only sandals (Tivas), swim shorts, and a tee shirt. I didn't dare wear my glasses. I didn't want to risk losing them or taking a paddle to the face. Everyone also brings sun block, and the staff stows these in the canisters when we hit the river.
Each of the 4 boats held 6 guests and the guide. In my boat were the DC couple (front left and right), myself (middle left), three college girls from Emory, and Pinky the guide at the rear. I commended the girls for their fine choice of a Spring Break adventure in Costa Rica, rather than the usual Florida/Cancun thing.
The river rafting trip was the best adventure I have ever had! After warming up with some class 1 & 2 rapids, we quickly had a streak of class 3 and 4 rapids, each with its own funny name. We saw iridescent blue butterflies, hanging bird nests, lizards, herons, and Toucans. During the pause between each exciting set of rapids, we would all "high five" with the paddles shouting "Pura Vida" (a Costa Rican gesture meaning pure life, going great, this is living, etc…). Along the way, there are strategically located staff with cameras, taking pictures for the photo CD they sell after the trip (which I of course bought!).
During one long calm stretch of water, we all jumped out of the boat to swim (except the guide of course). To get back in, someone on the boat pulls you up by the shoulders of your life vest. No one in our boat fell out during the 18 mile, 4 hour trip, although a few people fell out of the other boats at some point. Along the way, people playfully splash each other with water, and seem to get mildly agitated while at it. This is particularly silly since we are all completely drenched from head to toe anyway!
At one point we hit a wall of water so high it broke over the bow, submerging all of us for a good two seconds. Generally you sit in a twisted stance, with your butt on the side pontoon of the boat, the outside foot wedged between the pontoon and floor, and the other at 90 degrees, tucked under the seat-like cross member of the boat. As big ones approach Pinky would caution, "Okay, good foot positions for this one!" After a few well placed "forward, or hard-left!" commands, we would occasionally be lucky enough to hear him call out "get down!" and we all abandon our stances and sit low and straight, as a cool wave breaks in our faces, leading to that happy involuntary gasp!
Note: As I sit writing this in the quiet of my Selva Bananito lodge, I am being watched by a fluorescent blue high-pitched high-frequency fly. He just kind of hovers, then moves several feet in mere milliseconds and hovers there instead… How cool is that!
At about the two thirds point in our river journey, we pull over for lunch. We park the boats at an area they use with a set of hand made tables and benches, and the staff brings the watertight containers ashore. Inside are all the ingredients for a great lunch. They cut up fresh watermelon, cantaloupe and pineapple. Then they slice up tomatoes, lettuce, cucumbers and peppers, and lay out ham and turkey, salsa, chips, nuts, bread and tortilla wraps. They even have a camp stove and gently warm/toast each wrap! Also available were some cookies and sugar coated peanuts, which felt like great fuel as we stood there just slightly shivering in our wet life vests and dripping shorts. A small shower also started at this time, but it wasn't enough to dampen anyone's good spirits.
After about 30 minutes we were back on the river. Along the way, the three rescue kayakers constantly zip around, spinning in rapid swirls, rolling over sideways, and even rolling over forward! They have total command of the situation, heading both up and down stream with equal ease, sometimes surfing backwards up waves.
All along the route there were waterfalls feeding into the main river. At one point a waterfall spilled over an undercut ledge, so it rained like a 10-ft wide shower head over the entire left half of the river. So naturally, we steer towards the left!
As the journey comes to an end, we pass under a highway bridge, were cars and trucks beep to us as they wave and pass overhead. Just after the road was the take out point, which is right at base camp. We simply climb out, walk up to the bar, grab a beer, and start to get our stuff ready (we put our bags in a big locked cabinet at base before the trip). After changing into dry clothes, we finish our drinks, rest up, and glance at the preview of our own custom photo-CD, shot just hours before on the river. I bought one, along with a tee-shirt. The DC couple had a waterproof camera and took some nice shots, including some of me, so I gave them my email and they sent me some of the pictures.
Off to Selva Bananito Lodge
Next we split up into two vans heading off in separate directions: one West to San Jose and the other East towards Limon and the Caribbean coast. I was accompanied by 6 other guests along this 90 minute ride. Along the bumpy road the driver stops on the side of the road to observe a family of howler monkeys playing and eating in the trees on the side of the road. They don't yell for us, they just sit and eat. We turned off the main road for about 15 minutes to get me to my drop off point. The itinerary says I would meet my driver for Selva Bananito at 4:30pm, and we arrived at 4:28pm, no kidding!
I met the driver and we made the harrowing 45 minute 4x4 drive to the lodge. Along the way we crossed a narrow ridge, and had to cross a few rivers, one of which was halfway up the side of the jeep! The crossing was nerve wracking, as we skidded left and right over loose boulders under the water. But we made it. About halfway there I saw the last electric/phone line head in the other direction. The lodge has no electricity and is truly in the middle of nowhere on an old farm site.
We arrived at the lodge at about 5:30pm, before sunset. Lisa, a German volunteer at the lodge, was there to direct us towards my cabin. After the driver left she showed me the cabin, explained the basics, showed me my gas lamp and flashlight, and told me to come over to the main building for cocktails at 6:30pm. I decompressed in the hammock for a while after dropping off my bags and getting settled.
The room was absolutely beautiful. A square cabin on 6 ft stilts, it has 3 walls, a tile floor, and a sturdy roof. The forth wall could be closed with a set of bi-fold doors, but why would anyone want to do that? The jungle sits just outside, with a stunning horizon of mountains in the distance. Although I still can't believe this, there are (almost) no mosquitoes at all. I don't know how I could sleep in the middle of a jungle at 9 degrees latitude, totally open to the air with no mosquito net (although they do provide one), and not get a single bite of even an annoyance (not counting that funky blue fly!).
At 6:30pm I headed over for cocktails and dinner. Armed with my flashlight, I made my way along the path to the main building. Although it was dark, the path is lighted by tiki torches and gave no problems. The lodge provides flashlights, but I chose to use my compact LED flashlight given to me by a coworker, and it worked great! The main building and the cabins have a strict "shoes off" policy for obvious reasons. The floors are nice, and the jungle is muddy!
Gusto, the main staff member and primary guide at the lodge, gave us fancy rum drinks served in coconuts. There were two other couples: a younger French couple and an older Swiss couple. We mingled awkwardly for a bit, but then warmed up. After all, there were four languages of conversation going on: French, German, Spanish and English. Most of them knew 2 or 3 languages, and thankfully every one spoke English to some extent. But many things transcend languages, and we all had a nice dinner. Before dinner we used a flashlight to show the glowing eyes of a pair of caiman (small alligators) in the pond just off the main lodge building.
Gusto, Lisa, and the owner Jurgen joined us for dinner, which consisted of salad, followed by chicken, mashed potatoes, veggies, and of course rice and beans! Each meal was served with some type of freshly squeezed juice, seeds pulp and all. Tonight's was Tamarind juice. Dessert was a dish of bananas with a chocolate-like sauce. After more fun conversation, we headed back to our cabins, where I went to bed around 9:00pm. Before bed, I did some journaling by candlelight, and watched the hundreds of fireflies dart about in the jungle view.