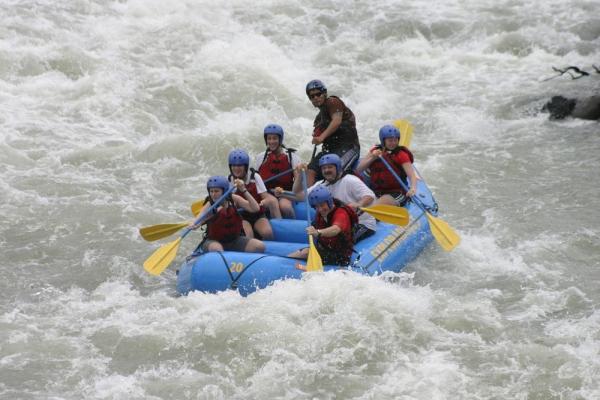 I woke up to bright sunshine at 6:30am for a 7:30am breakfast. Today was French toast (big thick heavenly homemade slices with powdered sugar), fruit, juice and coffee. We left for the bat cave at 8:30am. This time we had a 25 minute boat ride to another island. We drove into the mangroves until the boat couldn't go any further. We had one of the native Indian staff with us, and he tied off the boat and stayed with it. The rest of us headed off into the mangroves in the kayaks.
Today we had Jay the owner driving the two man kayak with the NJ dad (he was recovering from a broken rib and bravely chose to go on the adventure anyway). In individual kayaks were the NJ mom, the younger daughter, and myself. After a nice 45 minute ride we reached a small dock. Along the way we saw a caiman, and an egret that always stayed ahead of us but always flew further ahead when we approached. Of course we also saw and heard countless other birds, and crabs on the mangroves, clicking away as always.
After a muddy 20 minute hike through the jungle we reached the cave. Along the way Jay showed us a tree that looked normal, but after he banged it with a stick tens of thousands of tiny up tight and defensive ants emerged from every pore in the tree. The frantically patrolled the surface of the tree, ready to defend it. Apparently the tree lets them live there in a symbiotic relationship. They get a home, and the tree gets some defense. We also saw a fantastic bright red poison dart frog, and a native Indian family camped by the trail. They had a small fire, four or five people, and some baskets with water and laundry. Somehow, they beat their clothes in a muddy river, and yet look Clorox bright and clean! We paid them a $3 fee to enter the cave. Apparently they keep the path, cave, and dock in good shape for visitors. Their three single tree hand-dugout canoes sat at the dock alongside our modern plastic sea kayaks.
Just before we got to the cave it started to downpour, which the sun stayed out no less. We entered the cave, but the girls quickly chickened out after about 30 feet, when they realized they had to walk through nasty cave water as the bats dove at their heads. It was pretty wild as the three remaining guys walked about 150 feet into the cave in ankle deep water as dozens of bats swooped at us (but never ever touch you, due to their impressive sonar). The other couple had a nice camera (I also chose not to bring mine today since too much water was involved). They got some good pictures, and promised to email some to me when they return.
The return trip was peaceful but muddy. Our cave footwear was Tiva sandals with socks. Goofy looking, but it protects you from getting irritating mud between your toes. The socks, having fulfilled their life mission, ended up in the trash back at my cabin. When we got back to the boat, I had a Balboa (the local Panama beer), which seemed like the best, coldest, most "appropriate and timely" beer I ever had.
We made it back to the lodge at 12:45pm where I took a too-quick shower and made it to lunch at 1:00pm. This time we had roast beef wraps with plantain chips. Desert was an unreal homemade chocolate biscotti. Again, local chocolate.
Jungle Hike
After a nice few hours down time (I finished my book), a 3:30pm beer at the main house where I had a nice conversation with Stephanie (Jay's wife), I met up with Ramon at 4:30pm for a hike in the jungle around the resort area (I'm reluctant to call this a resort. I prefer to think of it as the sprawling home of some really nice old friends, who just so happen to have lots of guest quarters lying about).
Ramon and I walked down trails for about 2 hours, seeing lots of plant and animal life. He pointed out a plant that looks almost like a purple lilac that he has never seen on the internet or in any of his books. We saw several parakeets (very hard to photograph since they never stay still!). I also ate a mini-banana that was very sweet and delicious, and split a fresh guava with Ramon. It's so cool to eat something out of nature, and have it be so sweet and yummy at that! There's nothing like a private nature hike with a biologist for my last adventure in Panama.
I returned for a quick shower at 6:30pm in time for a 7:00pm dinner. Getting the mud out of my Tivas was only partially successful. I'll have to finish that task at home. Fearing dehydration, I drank 3 glasses of water, then a beer, then 2 cokes! Dinner was chicken and sauce with rice and broccoli. Dessert was the best of all, some kind of cinnamon roll cake with a creamy frosting. Best dessert of the whole trip, by a long shot. Even tops the "tres leches cake" from the first night at Tranquilo Bay! Tonight I sat with Ramon and the New York family. During dessert, Jim brought out the cook, a beautiful Colombian girl who shyly acknowledged the huge applause everyone gave. Bravo indeed!
As the crowd thinned, Ramon broke out the laptop and showed the last of us an incredible slide show of his best pictures, showing lots of turtles, birds, insects, and landscapes. This place is beautiful. He took pictures during my stay as well, and posts them to a "secret" URL off of the main Tranquilo Bay website, and will tell me the address at some point.
As I packed for my departure early tomorrow morning, I left behind a good sized pile of clothes. Having flown "carry-on only" with a duffle bag and small backpack, I had too many clothes. I wore my heaviest items here, but had no intention of doing the same on the way back. Once I found out that donated clothes are gladly accepted by the local native Indian tribes, I was all for it. Nothing would go to waste. Leaving is such a sad occasion, I didn't want to go to bed, knowing this was it.