For European and North American stargazers, a trip to the Southern Hemisphere can be truly disorienting. Orion appears on his head or side, Polaris can't be seen at all, and even the sun seems lost, following a course through the northern sky. Few visitors will forget their first glimpse of the Southern Cross, or Cruz del Sur; less well known are the Clouds of Magellan, two irregular satellite galaxies of our Milky Way visible to the unaided eye at a distance of 180,000,000 light years.

The skies above the Andean foothills between La Serena and Copiapó are recognized as being the clearest in the southern hemisphere, a fact which has led the world's great astronomical laboratories to construct giant observatories here.

The European Southern Observatory, representing a coalition of eight European nations, maintains La Silla Observatory and Paranal Observatory further north; here the ESO is busy at work on the last of four 8.2 meter telescopes which together comprise the Very Large Telescope (VLT). The Cerro Tololo Inter-American Observatory, meanwhile, is constructing an 8 meter Gemini telescope near their current site. Las Campanas Observatory, owned by the Carnegie Institution of Washington, is in the process of adding two 6.5 meter telescopes to their installations near La Serena.

While the Community Observatory at Cerro Mamalluca is open for public viewing, the rest of these observatories are only open for tours during the daytime. Nonetheless, beneath these skies even the unaided eye reveals new constellations, new galaxies, new worlds.

Thanks to the Tourism Promotion Corporation of Chile : 202-530-4109
Want to Go?
continent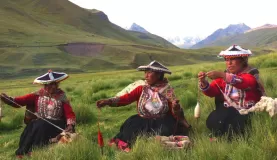 country