Chile's extensive coastline enables it to host every climatic zone imaginable, ranging from
desert yet moderate in the north to the Mediterranean in the middle to oceanic and chilly in the
Andes
.
Chile Climate
Chile
has a landmass smaller than any other
South American
republic except
Ecuador
, but its long coastline (2,700 miles/4,300km) makes it seem enormous. The country is never more than 100 miles (180 km) wide, with the towering
Andes Mountains
defining its eastern border. At some points, the Andean peaks can be seen from the Pacific beaches.
In the north is one of the driest deserts in the world - some parts have never recorded even trace amounts of precipitation! Moving south, you'll encounter an agricultural valley the size of California and then a province of mountain lakes and volcanoes - the famous
Lake District
. Further south is the wilds of Chilean
Patagonia
, a landscape of fjords, islands, glaciers. Chile's far southern tip points towards the polar ice of Antarctica.
What is the Weather like in Chile Year-round?
Chile's climate can be unpredictable, but it's generally pleasant year-round. The northern and central regions are warmest between November and February, while the south is warmest between January and March. It can be stiflingly hot in summer and very cold in winter in the north. In
Santiago
, average temperatures range from a high of about 82 degrees F (27 C) in January and a low of about 56 (13 C) in July. In the central regions, temperatures range from 82 F (28 C) in January to 57 F (14 C) in July. In the south, expect temperatures ranging from 55 F (13 C) in winter to 61 F (16 C) in summer. It gets colder as you go southward, so you will want to bring appropriate clothing if you plan on visiting Patagonia or
Antarctica
during your Chile vacation.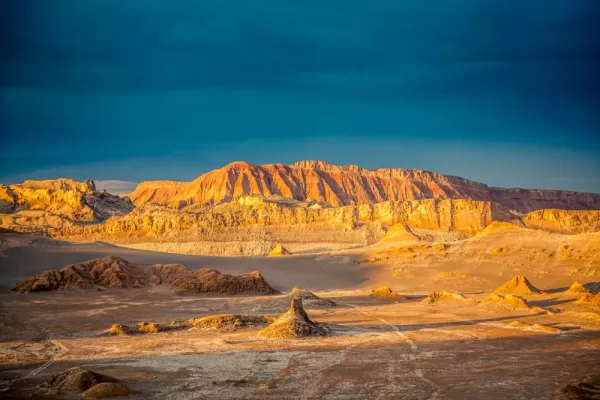 The peak season to visit the Atacama Desert is during the summer months of December, January, and February. Even though it's a dessert and you're thinking of heatwaves and scorching sand, don't forget that the Atacama Desert is at high elevation, which means the temperature plummets at night. Bring jackets, sweaters, long pants, gloves, and hats with you!
However, for those who enjoy
stargazing and astronomy
, the best time of year is during winter months of June - August. These are when skies are at their clearest. Even if you can't find a telescope to use, your eyes alone will be able to spot a huge array of celestial bodies.
Visit vineyards during wine tours near Santiago de Chile


Santiago & Surrounding Vineyards
see the weather in Santiago »
This middle part of Chile is the fertile heartland. Agriculture is a mainstay in this area that enjoys a Mediterranean climate, with maximum temperatures averaging 82°F (28°C) in January and 50°F (10°C) in July, the coldest month of the year in Santiago, where temperatures can drop to 38°F. The rainy season lasts from May to August.
Between late November and mid-March is the
best time to visit Santiago for warm-weather activities
. Summers in Santiago are hot, dry, and clear, while winters are cold and partly cloudy. Evenings and nights can be cool, even during the summer.
This is the most popular tourist area in the country; snowcapped volcanoes, many of which are still active, frame its numerous foothill lakes. Climatically the area resembles the United States' Pacific Northwest, with pleasant but changeable summer weather and cool, damp winters. Winter brings snow, and
skiing is a popular wintertime activity
. Puerto Montt's average summer high is 57°F (14°C), and wintertime temperatures average 45°F (7°C).
This area south of Puerto Montt and Chiloé covers about 30% of the total land area of Chile. It is a rugged, mountainous area of tremendous beauty. Westerly winds and storms often drop enormous amounts of snow and rain on the seaward slopes.
In the Magallanes and Tierra del Fuego areas, temperatures in summer average 52°F (11°C). Dampness and wind chill can make it feel cooler so be prepared by having several layers and good waterproof gear with you. The weather year-round is highly unpredictable, and in summer be prepared for constant winds that do lessen in the winter. The
best times to visit Patagonia is during the shoulder season months - November and March
- where you are likely to find the winds not as strong as they are during the peak of summer.
Rapa Nui enjoys a subtropical climate; winds and ocean currents strongly influence the weather patterns. The hottest months are January and February, while the coolest are July and August. The average summer temperature is 83°F (28°C), and the average minimum is 59°F (15°C). The average winter maximum is 72°F (22°C), and the minimum is 57°F (14°C), though when winds blow in from Antarctica with pouring rain, it can feel a lot colder. Light showers are the most common form of precipitation, with May being the wettest month.
When is the best time to go to Chile?
Chile is a year-round destination. Just like in the United States or Europe, Chile has four seasons. There's never a wrong time to visit Chile. Depending on what you want to see and do, one season may be better than the others.
In summer—December to March—the weather is warm, and people flock to the
beaches and parks
. If you want to experience Chile's seafood, the summer months is the best time. However, winter may be a better option if you're looking for more adventurous activities such as skiing or glacier hiking.
The winter months are May through August and are cold and dry, with occasional snowfall in some parts of the country. During this period, many visitors head south to enjoy the
skiing resorts
that are just a few hours away from Santiago. Spring in Chile—September through November—is also an excellent time to travel as there are fewer tourists and prices are generally lower.