Like many countries along the Pacific 'rim of fire,' Chile exhibits extensive faulting and high levels of geothermic activity, which explains the numerous hotsprings scattered throughout the country: over 240 of them, according to a 1997 survey. These springs are great places to visit, and range from tepid to boiling (geysers), from rustic pools to elegant 5-star resorts, from sea level springs in the midst of temperate rainforests to stark pools in the Altiplano, above 13,000 ft in elevation.

The highest concentrations of these springs are found in three distinct sectors. The northern altiplano sector, from San Pedro de Atacama to Putre, contains some 20% of Chile's hotsprings, generally at altitude and very, very hot. In Central Chile, the Pocuro Fault gives rise to over 35 separate springs with an average water temperature of 95-118° F. Further south is Termas de Chillan, a 5-star spa and ski resort with 9 thermal pools and a spring temperature of 160° F.

Extending over 600 miles from Volcán Llaima to Volcán Hudson, the Liquiñe-Ofqui fault runs parallel to the Andes and is responsible for the highest concentration of hotsprings anywhere in the country: over 70 separate springs lie hidden in the Andes and fjords of the Lake District and northern Patagonia.

Thanks to the Tourism Promotion Corporation of Chile : 202-530-4109
Want to Go?
continent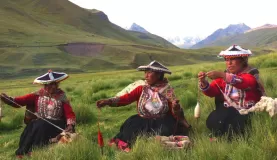 country