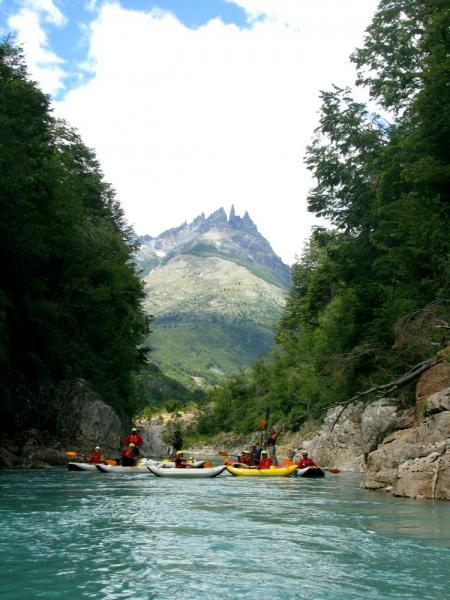 From the stark and stunning Atacama Desert, to its legendary Patagonia peaks, a
Chile tour
provides an outdoor playground for adventure enthusiasts and offers a landscape that seems tailor-made for the active adventure traveler. There is no shortage of options to actively explore Chile and here are five of our favorites ways to do just that.
Whitewater Rafting
Rafting Chile's Futaleufu River
is recognized as one of the top whitewater adventures on the planet. The 'Fu' is glacial-fed from Patagonia's Andes. Surrounded by grand peaks, it has top-notch rapids and its turquoise-blue waters are almost too vibrant to believe. The Fu offers stretches for beginners as well as Class III, IV and V rapids that challenge the most experienced rafters. Scenic & epic -- these are the things river-rats live for!

Trekking & Hiking
Torres del Paine National Park offers the quintessential
Chile trekking
adventure. Granite peaks, enormous glaciers, waterfalls, turquoise lakes and temperate rainforests supply travelers with great trekking set against an extraordinary backdrop. Its ecosystem is uniquely its own -- territory is secluded, uncharted and simply breathtaking. This famed park has a well-developed trail network, offering low-elevation hiking and opportunities for cross-country trekking. And there are plenty of hiking trails beyond the famous park. The landscape of Chile's Atacama Desert, Lakes District, Easter & Chiloe Islands invite travelers to explore by foot.
Small-Ship Expedition
Chile's coastline is dotted with a labyrinth of islands, fjords, glaciers and isolated inlets -- most of which are only accessible by sea making it an ideal place to experience a
small-ship Chile cruise
. In Chile's southern tip, travelers explore captivating places called things like
Glacier Alley
and the
End of the World
and can follow historic routes, navigating remote regions named by their intrepid explorers.
Sea Kayaking
A Chile tour provides over 4,000 miles of coastline and sea kayaking allows travelers to explore such coastal regions out of reach to traditional means of travel. Some of the best kayaking is in
Chile's Pumalin Park
and the Quintupeo and Cahuelmó fjords. Travelers can paddle between huge granite walls and waterfalls that plunge into the ocean. Share the waterways with austral dolphins, sea lions and endemic bird species. And when the day is done the park's hotsprings beckon paddlers to enjoy a soak.
Fly-Fishing: Catch & Release
Anglers have long called Chile a favorite destination. Rainbow, brook, and brown trout are widespread throughout Chile's south in many of the larger lakes and rivers. Atlantic salmon, cohos, and steelhead trout, all introduced within the last twenty years, are also found in the region. Remote mountain lodges and specially-designed
Chile fly-fishing cruises
provide access to those hidden holes that never disappoint. Because on the off-chance that the fish aren't biting -- the scenery always satisfies.