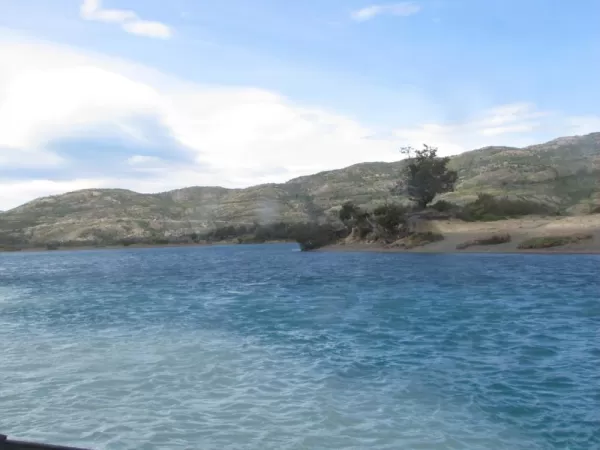 Among the superlatives to mention, the Tatio geyser basin is the highest such area in the world at about 14,000.' The chance to have acclimated came in handy, although the walks at the basin were not difficult. There was a very early start for the 1 1/2 hr drive since the plan was to be there for sunrise. The dramatic effects of the steam and geysers were enhanced by the cold pre-dawn hours. The geysers here are low bubbling pools rather than high intermittent eruptions. The dawn light on the surrounding peaks also made the early start worthwhile. Not to mention the hot chocolate and coffee breakfast when we got back to the van.
There were other stops on the drive back. We could better see the mountains in the distance, including volcanoes with steam erupting from their summits. A stop at the Putana River was a chance for some wildlife photos. The viscacha looks like a rabbit with a long tail. There were many vicunas throughout the area. A small isolated village, Machuca, was notable to me because of the juxtaposition of small homes with thatched roofs but also solar panels.
This was a very full day because we still had an excursion to the spectacular Valley of the Moon in the afternoon. It was an area of slot canyons, sand, fantastic rock formations and cliffs of salt. The area is part of the Cordillera de Sal--the Salt Mountain Range. Short hikes took us through Cari's Gulch, the sand dunes of 'the Canyon', the amphitheater, the 3 Marias and the misnamed Death Valley. From our viewpoint toward Death Valley we could see sandboarders and the giant dune that they would glide down as if it were snow. The day culminated with going to a high view point to watch sunset light up the terrain while we enjoyed a nice spread of cheese and wine.