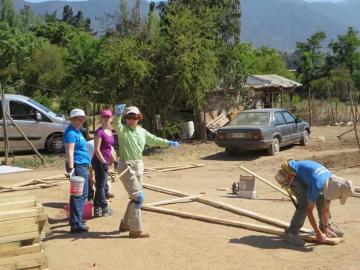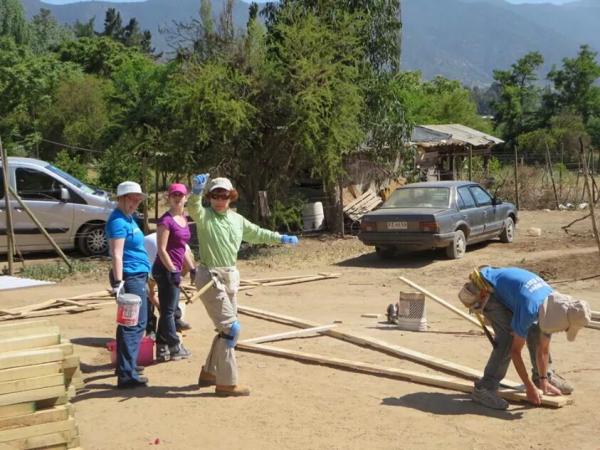 Arrived safely after 10ish hours from NYC. Wandered the city a bit before settling at hotel(rooms not yet ready when first arrived). Took the funicular up Cerro San Cristibal for view of the city. Not much smog.. Nice clear day!
Wandered through some cool shops and lunch at Mexican restaurant.
Dinner at hotel then orientation.
We found that our habitat family had twins earlier this year - one with cystic fibrosis. Sadly the healthier one passed away a couple of months ago and the cystic fibrosis one is in hospital with infection.
We were warned that UV indices will be in the range of 12 to 14. Yikes!
Early to bed...tired and big day ahead.
Day 1 of build started with 45 minute drive to Curacavi. We are in a rural area surrounded by small mountains covered with scrubby vegetation and many 12 foot cacti.
We were treated to cheese sandwiches and tea before starting on our first project of building trusses. We then continued on - working on the floor so by the end of the day we had gone from pilings to framework then subfloor covering ..ready for walls! The addition that we are building is about 20 by 20 feet.
Were fed well throughout the day including semolina dessert for lunch for which I asked the recipe from Miriam our smiling and hardworking cook. At lunch, the men were served first..not used to that! The servings were massive but the food disappeared nonetheless.
One thing that I have to deal with in my "infection control" little mind is that there are no serving spoons. Everyone just digs in...multiple times! I learned to take what I thought I could eat right off the bat..and don't go back!

We also had fabulous ice cream bars in the middle of a hot afternoon! What a treat!Long day on site. Got back to hotel about 730. Supper served to us by lady who Habitat had helped when her son had leukemia. He died just days after they had finished the build.
Too tired for any nightlife that night.