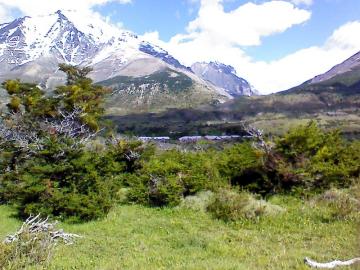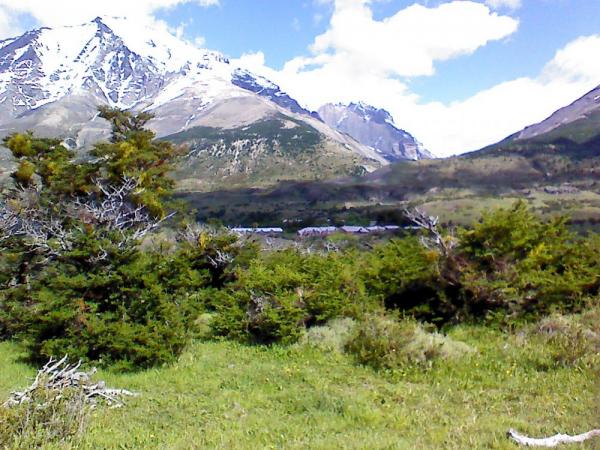 It was farewell this morning to fellow travellers that I have met during my stay. We are all like a bunch of gypsies - as some are leaving others are arriving - transient crowd!
My shuttle back to Punta Arenas is not til this afternoon. I decided to take advantage of the warm sunny windless morning (in shirtsleeves!) And take a walk along the interpretative trail leading from the hotel. It was only 2 km but was nice to just get out onto a trail of some kind.
The photo above shows where the hotel is in proximity to the mountains... (Look closely at the base of the mountain). Right there! It looks ranchy because it is. Inside there are hides (sheep or horse) on stools or as cushions. There are a few saddles hanging around for added effect. Sorry Nicole! It is a bit rough for vegetarians!
*******
The ride back was uneventful which is good considering it is about a five hour trek including pee breaks. I am thinking that the Patagonian puma population may have an obesity problem considering their easy access to so many sheep and guanacos!
We met three sets of cyclists - Two pairs and one single . All were loaded with paniers. Considering the winds and miles of nothing but sheep, these are hardy cyclists!
I was dropped at the hotel around 6:00 which gave time to get to know the nneighborhood before dark. Well considering the sun doesn't set til 9:30, that isn't hard to do.
Keeping my fingers crossed for good weather tomorrow for my tour to see penguins.