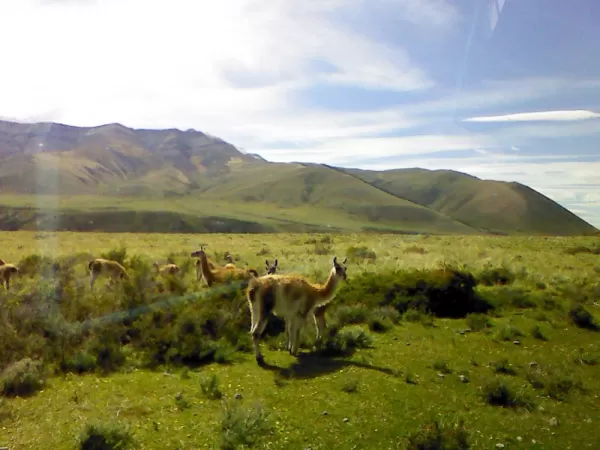 Quite a nice day by Patagonian standards. Mostly sunny with only moderate winds. The two grey foxes that hang out here provided entertainment over breakfast. They are quite large - like small coyotes. The hares are large too. If you doubled the length of Fergus's hind legs, that would be about the size of the hares! My plan today was to take an excusion by van then boat to see the Gray glacier. Unfortunately high winds made the lake too rough taking that option out of the question. I opted for van excursion back to Laguna Azul. Knee is better but not fit for hiking yet.
All that being said it was just as spectacular as yesterday. Bright sunshine with less wind made it possible to view the granite towers for which this park is famous. We saw flamingos and watched two Andean condors soaring overhead for several minutes. With the strong winds it is easy to see how they can float their heavy bodies so effortlessly. There are several other birds that I still need to look up to identify. Of course there were rheas and a zillion guanacos - including a mom and baby close enough for a good picture.
I came back and had lunch with a couple of Brits from my tour yesterday. Lunch is a culinary delight. Today was Patagonian king crab, hake, quinoa, rhubarb relish, and other delicious bits artfully presented. Such a treat - not hiker food at all!
Went for a long walk around the grounds after lunch and am now enjoying a pico sour Chilean cocktail in the lounge area where WiFi signal is strongest. This little fantasy is winding down but will enjoy til it is time to go!
They let the horses graze around the hotel tonight. I think they use them as a form of lawn fertilizer. I had forgotten they were out there until one snorted right at my window as I was reading just before bed - must a jumped a foot off the bed!