Patagonia Camp is the first luxury camp in South America. It is an original and distinctive concept where each detail has been carefully thought of so that guests may thoroughly enjoy the magnificent and wild nature of mythical Patagonia, combining comfort, convenience, and the warm hospitality that Chileans are known for. Patagonia Camp invites you to live an experience unlike any other.

Located on the shore of Lake Toro close to Torres del Paine, in a region of extraordinary beauty. The camp is surrounded by spectacular landscapes, ancient forests, lakes and turquoise-colored rivers, Patagonia Camp is the ideal place to experience the rugged and wild Patagonian region by combining nature adventure with comfort and luxury.

Total Immersion in Nature
Patagonia Camp was designed so that our guests may totally immerse themselves in the extraordinary natural landscapes of Patagonia, without foregoing luxury and comfort.
Our yurts are designed so that our guests may listen to the sound of the wind or rain while staying warm and cozy inside, and they are situated so that when our guests step outside they are greeted by one of the most stunning landscapes in the world as well as a thick beech forest where we can observe some of the many species of birds that live with us in this region.

The Camp
The complex is made up of 18 yurts, all of which have a view of Lake Toro and the Paine Massif. There is one main building that serves as the restaurant, bar and lounge. All are connected by elevated walkways.

Patagonia Camp has been designed and built to have minimum impact on the environment and to be visually and structurally harmonious with the landscape of the area. The entire complex is built on wooden stilts and platforms, including the yurts, communal areas, and walkways that connect the complex, so that the plants, bushes and trees that have grown in the area for hundreds of years are protected, and the dozens of species of birds who watch with curiosity the arrival of guests.

Patagonia Camp Experiences
Food and Wine
Guests will be delighted with the cuisine at Patagonia Camp. The chef combines regional products such as lamb and southern hake with fresh, locally produced fruits and vegetables to provide guests with delicious and healthy meals. You won't want to miss dining in the "quincho," where you can take part in a famous Patagonia barbecue of slow-roasted Magallanic lamb. The camp offers a selection of the finest Chilean wines.

Bar and Lounge
Relax in the bar and enjoy a well-made pisco sour or a glass of fine Chilean wine while gazing out at the incomparable view of Lake Toro and the Paine Massif. The bar and lounge provides guests with an ideal place to meet and share tales of their daily adventures.

Amenities and Services
• Internet in the lounge & bar (WI FI)
• Laundry
• Gift shop
• Restaurant and Bar
• Bilingual Reception
• Safety Box
• Bikes
• Fishing Rods

Yurt Accommodations
Patagonia Camp has 18 yurts: comfortable independent tent domes nestled in a dense forest of beech trees and facing the spectacular view of Lake Toro and the Paine Massif.

Each yurt has a private bathroom, complete with 24-hour light and hot water. From your private terrace soak in the views of the Lake and Paine Massif. Each private yurt is fully equipped with a king or two single beds, telephone with DDI, and heating. Each is finely decorated with Patagonia-style woven fabrics and handcrafted furniture by local artisans using local woods.

Sustainability at Patagonia Camp
Patagonia Camp believes that guests should be able to enjoy rivers, lakes and ponds that are clean and crystalline. For this reason, the camp has installed two waste treatment plants that release water that is 100% pure and does not contain any residues. One treatment plants is for "gray" water from laundry and kitchen, which eliminates any trace detergents. They ensure that the water used returns to nature absolutely free of any kind of organic or toxic material.

Patagonia Camp utilizes clean energy that does not produce contaminants so that they emit the least amount possible of CO2 into the atmosphere. To accomplish this, they have put a special emphasis on optimizing energy resources by using low-consumption electrical appliances, which in turn allows the use of a low-consumption electric generator that releases very minor levels of CO2.
Rooms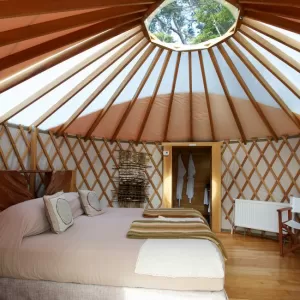 Deluxe Yurt
Ensuite Bathroom, Private Terrace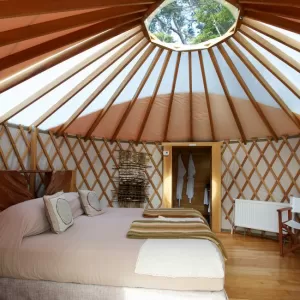 Deluxe Yurt + Jacuzzi
Ensuite bathroom, Private Terrace, Outdoor Jacuzzi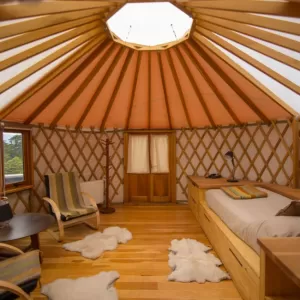 Family Yurt
2 Bedrooms, Ensuite bathroom, Private Terrace, Outdoor Jacuzzi
All Inclusive Patagonia Camp Excursions

Explore Chilean Patagonia and Torres del Paine on one of these excursions from Patagonia Camp. Daily excursions are offered to guests according to their preferences and weather conditions.

Scenic Pain
Duration: Complete Day
Distance: 1km
Difficulty: Easy
This excursion will allow you to cover kilometers of the best views of the National Park without having to travel long paths on foot. It is an adventure that you will do by vehicle and that will give you memorable memories of the most important landscapes of Torres del Paine.

Viewpoints
Duration: Complete Day
Distance: 6km - 3.5 km
Difficulty: Easy
This excursion is the perfect setting to observe two of the most iconic emblems of the Cordillera Paine up close. First, you will hike to the Salto Grande waterfall and then to a summit with great views and condor nests.

Historical Patagonia
Duration: Complete Day
Distance: 6.7 km
Difficulty: Normal
The Tehuelches, native Patagonians who gave their name to this beautiful land, once lived in this area. Discover its fascinating history on an excursion that will show you its culture and enchant you with traditional myths and legends.

Maitenes Peninsula
Duration: Midday
Distance: 15 km
Difficulty: High
Walkthrough the only existing native maitenes forest in the Chilean Austral Patagonia. On an evergreen path, you will discover the pristine nature of almost untouched forests as well as beautiful views of the Macizo Paine and Lago Toro, among others.

Torres Base Lookout
Duration: Complete Day
Distance: 22 km
Difficulty: Extreme
Observe from an incredible amphitheater the most spectacular views of the Torres del Paine. This iconic route is a mandatory segment within the W circuit as it offers one of the most famous postcards of the end of the world with rocky peaks and exuberant glaciers.

French Valley
Duration: Complete Day
Distance: 19 km
Difficulty: Hard
Water and land come together in this 10-hour excursion that offers an unparalleled experience: cross the turquoise waters of Lake Pehoé and then walk the wooded path that will take you to the valley's amphitheater.

Trekking Gray
Duration: Complete Day
Distance: 12 km
Difficulty: Difficult
The Trail to the Gray viewpoint is located on the slopes of Mount Paine Grande. To reach it, you must first cross the turquoise and brilliant waters of Lake Pehoé in 30-minute navigation and thus continue with the journey that will take you to contemplate southern Patagonia from above.

Mylodon Cave
Duration: Midday
Distance: 5.5km
Difficulty: Easy
Located on the outskirts of the city of Puerto Natales, this natural monument is made up of 7 caves, of which 3 are protected. Here, remains of mylodons and saber-toothed tigers, among other Pleistocene species, were found.

Cerro Castillo Trekking
Duration: Complete Day
Distance: 18km
Difficulty: Extreme
Connect with the natural force of Patagonia in an incomparable excursion. With 8 hours of ascent to the summit of Cerro Castillo, you will enjoy beautiful views and live a great challenge.

Weber Loop
Duration: Complete Day
Distance: 15km
Difficulty: Difficult
We invite you on a journey of discovery and emotions connected with nature in one of the most pristine places in Torres del Paine. With infrequent visits, this route through the mountain range offers views of beautiful conjunctions of rivers and lakes.

Paine Massif Viewpoint
Duration: Complete Day
Distance: 13km
Difficulty: Difficult
Discover a unique ascent to the most dazzling viewpoint of Torres del Paine. On this exclusive excursion from Patagonia Camp, you will go through winding trails that will lead you to impressive views of the Paine Massif, Gray Glacier, the Serrano Valley and part of the southern ice field.

Ferrier Lookout
Duration: Midday
Distance: 5.8km
Difficulty: Hard
From this beautiful viewpoint, you will be able to contemplate one of the most incredible panoramic views of Torres del Paine. The adventure begins in the Gray Nursery sector and then ascends to one of the steepest peaks in the western sector of the park.

Pingo Beach Gray
Duration: Complete Day
Distance: 8.6km
Difficulty: Difficult
As you enter the banks of the Pingo River, you will discover an ancient forest made up of lengas and coihues. You will be able to observe the sinuous meanders of the same river and the west face of Mount Paine Grande. If you enjoy the calm, nature and silence of the forest, this tour is ideal to disconnect from everything.
Inquire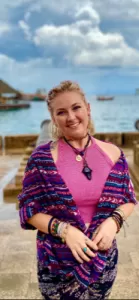 We Love to Talk Travel
Call
1.800.344.6118
or
Chat Now
Kate was great to work with in the planning stage. She was prompt, helpful, and efficient. Our tour guide, Edwin, was knowledgeable and passionate. We were very happy to have traveled with Adventure Life, it made the trip easy and a true pleasure. We could concentrate on enjoying the experience rather than the details of travel.
Lisa Bridge