At the "End of the World," in the Tierra del Fuego region of the Argentina archipelago, there exists a clear history of European settlement. Europeans, motivated by conquests of gold, oil, and prime grazing grasslands sailed to this southernmost area with hopes of monetary gains. Today, southern Argentine cities gather their roots from this rich history. However, before the influx of foreign people, there existed several relatively little known groups of people. The Yaghan (or Yamana), Alacaluts, and the Ona peoples once roamed the desolate area, enduring rough climatic conditions and finding little competition for the wildlife and marine resources upon which they relied for survival.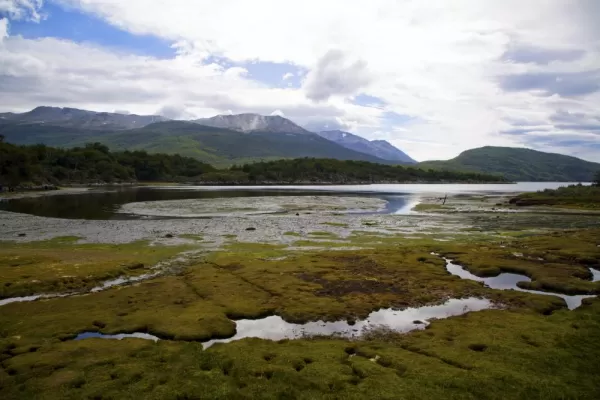 Like the Alacaluts, the Yaghan people were mobile canoe travelers living in the labyrinth-like channels and waterways of Tierra del Fuego. Hunting with heavy harpoons, their bounties included large marine animals, fish and shellfish. Even through the harshest of weather they wore only scant clothing and traveled the snowy region with bare feet. Charles Darwin, on his voyage up the Beagle Channel, was impressed to note "these people going about naked and barefoot on the snow." Relying upon marine resources and living in such close proximity to the sea, it was only appropriate that they smoothed greasy fish or animal fat over their bodies to protect their skin from the wind and cold. The Yaghan people constantly had a fire stoked to keep themselves warm; they even chanced the demise of their transportation by starting fires within their bark canoes, providing warmth while they traveled the chilly waters. The very name of this region, Tierra del Fuego (meaning "Land of Fire"), was inspired by this group of indigenous peoples. Spanish explorers appointed this name as they journeyed in search of the Spice Isles, passing the Tierra del Fuego shorelines and seeing the land dotted with man-made fires.
Geographically and culturally distinct from the Yaghan, the Ona were a land dwelling and war-like people. They had two main groups: the Hausch and the Selk'nam. Within the latter were two subdivisions, one that occupied the northern treeless prairies of the Rio de Fuego and one located within the southern parklands and forested regions. Distinctive from their coastal counterparts, these people were gigantic in stature and survived by hunting guanacos and tuco-tuco, a type of rodent, using a bow and arrow as a weapon. They were known for being fierce warriors and enjoyed displaying their ruthlessness, often making attacks on the Yaghan, by whom they were greatly feared. Unlike the bare-skinned canoe peoples, Ona garments consisted of heavy furs and leather shoes for snow travel. They ornamented their bodies with necklaces and bracelets crafted out of bird bone, shell and guanaco tendons and by painting simple drawings with red, black, white and yellow paint. Surviving harsh conditions and implementing severe behavior, Darwin notes this culture's distinctive peoples and their infamous disposition by entitling them "wretched lords of this wretched land."
If you travel to Argentina today you will not see any traces of these indigenous groups. Surviving in a very inhospitable corner of the planet, the Yaghan, Alacaluts, and Ona proved to be strong and enduring people. However, these qualities did not protect them from the influx of foreign disease and culture. Discoveries of natural resources by the Spanish, and later other European settlers, brought quick changes to these historic cultures. European disease wiped out large numbers of both populations, and those that survived faced the problem of cultural erosion. As European customs and religious culture infiltrated the area, missionaries arrived with goals to convert and "civilize" local people. It was not long before these distinctive cultures faded dramatically and those that did survive melded culturally with new peoples of the land. Today less than five pureblood Ona and five pureblood Yahgans people exist in present day Tierra del Fuego, though there are many people of mixed-blood.