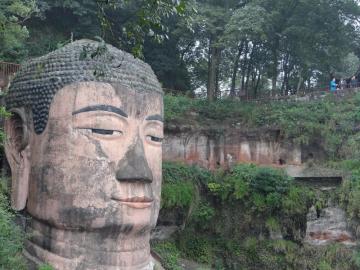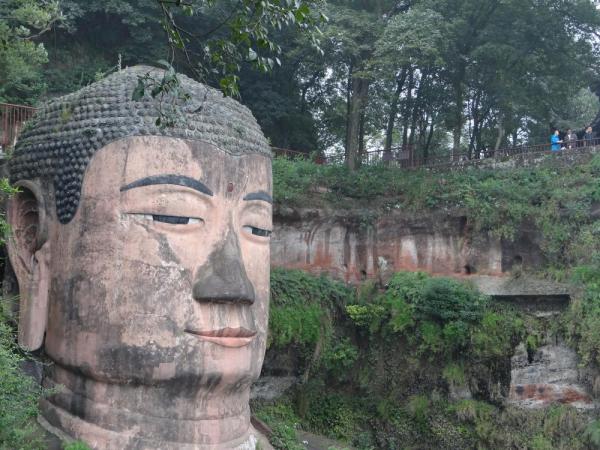 Traveling further south on this journey, lands us in Chengdu. Chengdu is surrounded by mountains and lies in a valley. Hiking and biking opportunities are prominent in this area. Green tea is also the gem of this area and much of the landscape is characterized by tea farms. As an outdoor enthusiast, the golden ticket of this trip was Southern China which did not fail to wow me.
My hiking experience started in Leshan with a journey to the Giant Buddha. Once again, my guide in Chengdu failed to disappoint. His name was Bruce and he was training to be in a triathlon and has biked across Scotland. He is from the Sichaun Province originally so Hot Pot Soup and the mountains are close to his heart. He took me the back way up the mountain to the Giant Buddha which is the less frequented way. This way passes large Buddhist temples where you can see the afternoon prayer and folks practicing Thai Chi. Again, trekking poles will come in handy as the way down to view the full Giant Buddha is by way of a steep stairway. At the base of the statue and confluence of Minjiang, Dadu, Qingyi Rivers you have the best view of the Giant Buddha which was carved by hand over a period of 70 years starting in 713 AD.
The Sichuan Province is said to be the most well known and popular cuisine in China, with good reason. Hot Pot soup is at the forefront of its popularity and is a chili based, clear broth soup. Once boiling, you can drop in fresh meat and vegetables in order to make the soup. While Hot Pot is native of Sichuan, you can find this dish all over China. If you don't love spice, then you have an option to have clear both soup without the chilis but be warned, most people in Sichuan don't know what the word "mild" means.