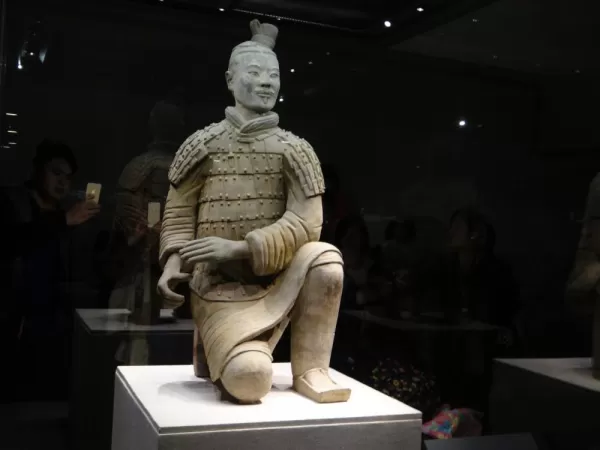 Xi'an is pronounced Shee-an.
The next day, I headed onto the bullet train bound for Xi'an. I had never been on a train before, much less a bullet train that's speed averages 300 kilometers per hour. The ride from Beijing to Xi'an takes 5 hours with multiple stops along the way. If you want to see the landscape of China then take the train, if you'd just like to get to Xi'an, there is a short flight that will get you there in two hours.
Back to the train! I had faint feelings of being a Hogwarts Student and ordered a small dish off the food cart that occasionally went by. You have the choice to spring for a 1st class seat or a class in the main compartments, spring for the 1st class! The seats are large and comfortable, and best of all, the compartments are mostly empty leaving you plenty of room to walk around and take photos out the windows. The landscape is nothing like you'll see in Southern China, but it's really nice to see the cities and pieces of China you'd otherwise miss in a plane.
I was met by my guides in Xi'an. To preface guide service in China, the country so large that it's illogical to have just one guide. Instead, you'll have different guides in each province. China has 23 provinces and 5 autonomous regions in all. My guide, Sherri, and driver, picked me up and took me to Xi'an China Art Academy where I learned about the history of art in China and was taught the basic strokes of Chinese Calligraphy. The Academy is home to local university artists and houses their work along with countless other pieces. My calligraphy teacher and academy guide had been practicing since she was six years old. The older arts in China (calligraphy, paper cutting, etc...) are a dying tradition. With each new generation, less and less people dabble in the traditional art forms of Chinese culture leaving only a few artisans who still practice. At first glance, one may assume the calligraphy is a simple art form consistent of eight easy strokes. Picking up a calligraphy brush will make you realize otherwise though.
After my art lesson, I headed to the famous Terracotta Warriors. This massive archaeological treasure was discovered by a local farmer in the 1970's. Emperor Qin Shi Huang had these constructed in over to preserve his remains and carry him into the afterlife. Due to oxidization, most of the original coloring has been faded though some remnants of the black and red paint still remain. There are three pits that house the warriors, the first pit being the largest. The most intact warriors are the kneeling soldiers and the generals. Those are encased in glass to preserve their features.
My day ended with a dumpling feast! Each province is sort of like a different state in America. This means that while Mandarin is the wide spoken language in China, each province speaks it will a different emphasis and colloquialisms. This also means that each province has culinary specialty. In Beijing, it's a toss up between street food and Peking duck. In Xi'an (capital of the Shaanxi province) it's dumplings. The dumpling feast hosts a whole variety of dumplings shaped into various animals and filled with spinach, chicken, pork, etc...