Food is a central part of any culture, and eating together is one of the common relationship-building experiences in that culture.  So while on our China adventure, we were excited to have different food experiences.  It was important to us to experience Chinese food in an authentic way.  Our only prior exposure to "Chinese food" was in the US — typically salty, always with rice, and usually one entree per person, followed by a fortune cookie.  Taylor has had more authentic experiences living in NYC, but he was anxious to see if it was the real deal.
We committed to eat 100% with chopsticks, and we honored that (in spite of any forks you might see in the pictures).  Whether picking up steamed buns, chasing soybeans, or eating rice and noodles, chopsticks were our eating tools.   We also learned that most Chinese meals are served family style, and having all the food consumed can be a negative reflection on the host.  So there were many dishes served at every meal, and we never ate it all.  We were well fed!  Our guides were crucial in the ordering process, especially at restaurants they were familiar with.  They gently suggested some of the most delicious dishes that we may have overlooked.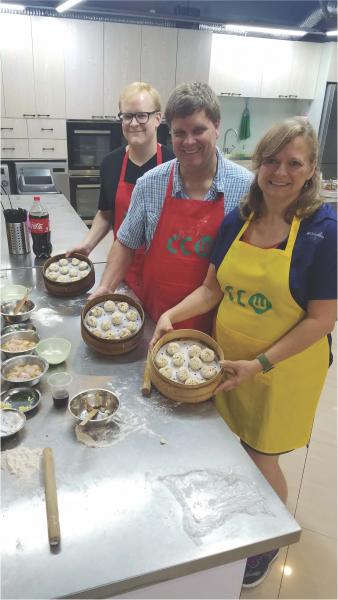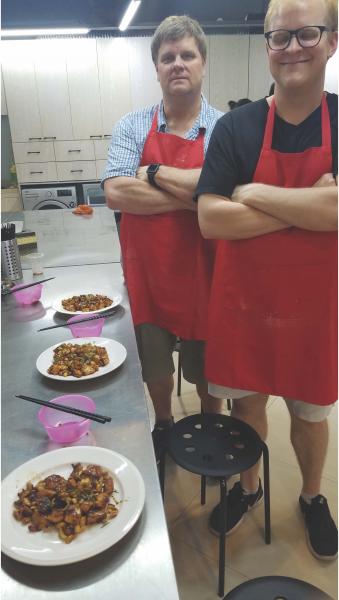 We had several memorable meals.  Our very first main meal in Shanghai was actually a cooking class — just the three of us and a cooking teacher.  We made Kung Pao Chicken and Pork-Stuffed Dumplings.  I will never look at a dumpling again without great appreciation for the maker.  They take patience, attention to detail, and tender handling.  Ours were steamed after we made them.  We prepared the Kung Pao Chicken in a wok while our dumplings steamed.  It was a really fun experience, and tasty!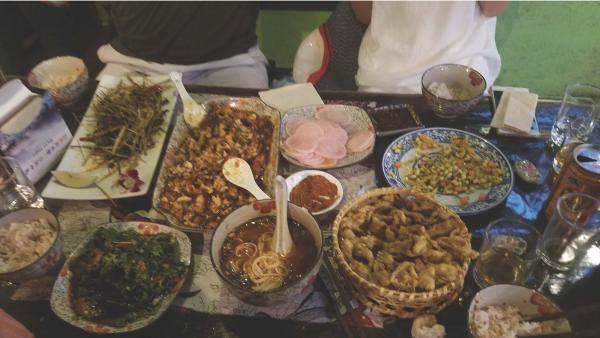 A family favorite meal was at a tiny restaurant in the Beijing Hutong neighborhood, literally in an alley of old homes.  It featured food from the Hunan province.  We were only feet from the kitchen, which added to the authentic ambiance.  We ate (clockwise from top left) chicken with fried vanilla, a whole tilapia with a sauce and veggies, pickled radishes (appetizer), lavender blossom scrambled eggs, fried mushrooms, spicy rice noodles, mint beef, and barley rice as an accompaniment for those who wanted it.  We drank a cold tamarind drink out of a can, very cool and sweet.  Besides the ambiance, the flavors of this meal were unique and bold.  We'd never really had anything like it.  It was wonderful, relaxed, and a great experience.  We have pictures of the meal, the restaurant inside and out, and the view out from the front step.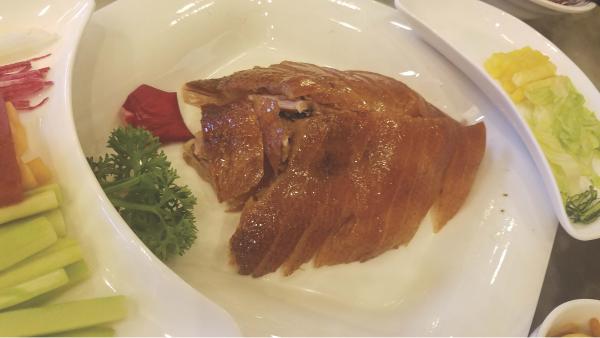 Another memorable meal was also in Beijing — a dinner at a larger restaurant featuring Peking (Beijing) Duck.  Beforehand, we walked around the large restaurant looking at where they cooked the ducks.  None of us had eaten Peking Duck before or really knew what made it special.  It is all in the preparation and presentation.  They are prepared hung upright in wood-fired stoves, creating a wonderful juiciness on the inside and crisp skin on the outside.  The preparation is quite the show.  The chef came to the table and carefully carved the skin into narrow strips about 2-3" long and the meat into small chopstick-friendly bites.  He then arranged the meat into a mound approximating the size of the duck body and carefully placed the skin over the meat to reconstruct the duck.  It was beautiful.  It is served with little pancakes — more like a cross between paper-thin tortillas and drier crepes — that you stuff a few pieces of duck meat, duck skin, and accompaniments such as sticks of cucumber, cantaloupe, and onion.  You roll it up like a tiny soft taco, dip it in bean paste or apricot sauce and eat it with your hands.  This was the first food we'd seen eaten with the hands!  The Peking Duck was only one of the dishes at this meal.  We had green beans, noodles, fried leek-filled pancakes, pork ribs, and a sweet-sour pork dish.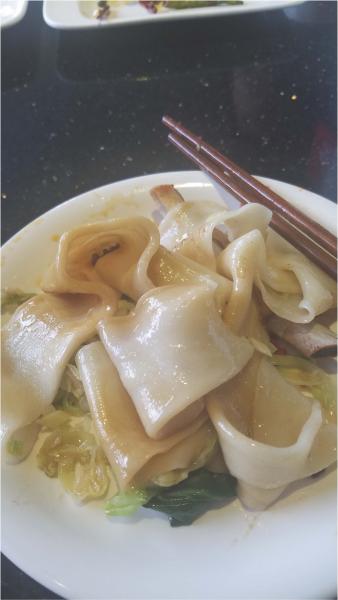 Terri's Chinese students told her not to miss noodles while in Xi'an, so we definitely included those in our order when we ate out there.  They were delicious and unlike any noodles we'd had in the US, though Taylor reports they confirmed that his local noodle shop in NYC, which said they were Xi'an noodles, was indeed authentic.  They are about an inch wide, very long and tender, and served with some kind of sauce/meat.  Our guide told us to eat them as soon as they are served because they can get mushy, and we did that.  So, so good (and filling).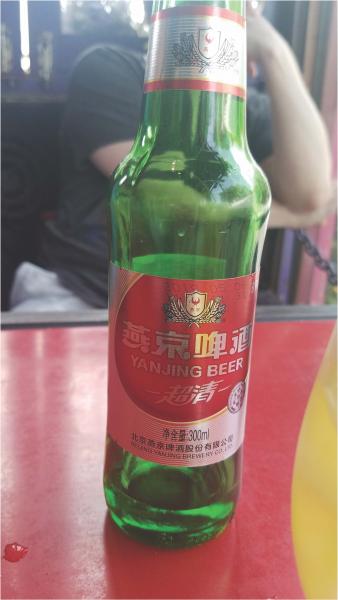 We learned a lot about Chinese cuisine.  
Being Americans, we viewed the Chinese breakfast as Chinese food eaten in the morning.  It was a bit more specific — steamed buns, dumplings, noodles, boiled eggs, egg pancakes, rice porridge.  If you are looking for a big American breakfast with scrambled eggs, bacon, and sausage, you won't find it.  One hotel did have fried eggs (cooked with yolks hard), and some sweet breads.  And you could find toast, but the breakfast buffets were definitely Chinese.  One hotel also packed us a breakfast to-go on the morning we left early to catch a bullet train.  
Then there were the drinks.  Of course, there is hot tea at every turn.  And at meals, we could order drinks like Coke or beer. But Chinese folks don't normally drink with their meals like we do.  They will have hot water to start (to aid digestion, according to a guide) and sip hot tea throughout.  Cold water is an anomaly.
Chinese beer has a really low alcohol content.  As an aside, finding a Chinese "bar" is something you might have to work at.  Though they drink alcohol, they don't do it in the same way that we do.  
Dairy products — milk, ice cream, and beef — are sparse and expensive.  Basically, China doesn't have a lot of cattle.  They do have a lot of plant-based agriculture and other livestock (pigs, chickens), but not much cattle.  They take up a lot of space.  
Dessert is frequently fresh fruit like melons.  Chinese folks aren't big on the rich desserts that we Americans indulge in.  In fact, they aren't big on snacking. 
Rice is viewed as a filler and often not even served until the end of the meal, and then only if requested.
It is so easy to think of China in a singular culinary way, but different regions have different specialties, just like in the US.  Rice and rice noodles are eastern specialties, wheat-based noodles are specialties in central China.  Flavors featured depend on the ethnic groups that dominate each region, again just like the US.
As you can see, food was a major part of our Chinese experience.  This was a pleasant, unplanned surprise to us.  We learned ton and immersed in the culture experience of eating.  And not a single fortune cookie in sight!