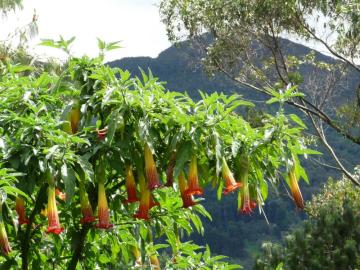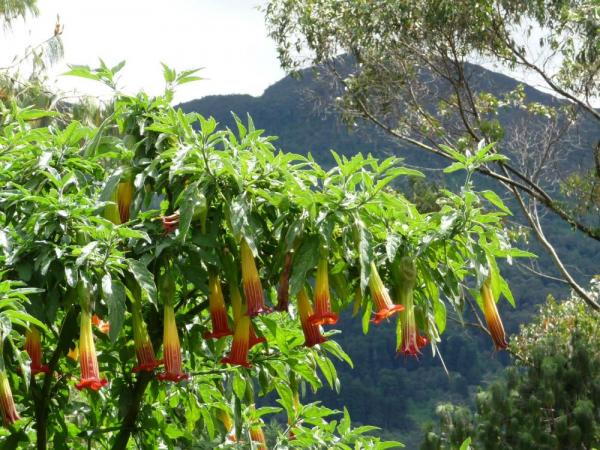 This morning Mike and Kristina took their dog, Boomer, to the vet. He developed a large tumor-like growth under his chin three days ago. A biopsy was taken, antibiotics prescribed, and home he came. Not so easy a diagnosis with the lack of Internet connection since Saturday morning here at the Dubberly's home. Looks like a new modem will be delivered after we leave tonight for Buenos Aires!
So, we have a game plan...visit Carrefour, a large, European 'SuperK' and then lunch at 'Crepes & Waffles' a Colombian chain, known for it's delectable delights that one indulges in only occasionally. Then to visit the Zipaquira Salt Mines which is the #1 tourist attraction in Colombia.
The trip to Carrefour was slow but successful, and our lunch at the crepe place proved to be excellent! The tour through the Salt Mine was fascinating. They had carved a 'Salt Cathedral' underground that depicted the stations of the cross, each with a cross carved from the salt walls. Then, they were lit with multicolor lights, that added to the dimensions and beauty of each station. It is also an active mine, but the work is done at night, so as not to disturb the tourists.
These were a few things we learned: 5% of the mined salt (sodium chloride) is used for human consumption. The remainder is used for glass, paper, and medical supplies. Different from sea salt, which has other minerals. When the Colombian Indians collected the salt from the water and evaporated it, they saw it's value. They traded with it, and used it to pay salaries: Sal-dia-rio or salt for a day's work, became our word for 'salary'.
Time was of the essence, since our flight to BA left around 10pm. It was necessary to arrive 3 hours before takeoff, so we needed to leave plenty of time at the latter end of the day.
But, as usual, the Lord tested my patience. A number of events stood in the way: long, slow lines at Carrefour (it took the cashier 10 minutes to process three people!), multiple banos stops, losing time on the maze of one-way streets in the small town of Zipaquira, and the van nearly overheating going up steep road to the salt mines. Of course, it began to rain, and the fan belt made a squeaky squawking sounds, threatening our journey forward. And the traffic was stop and go! Whew!
We arrived home in plenty of time to quickly pack, and pile into the van once more. With all the activity, we looked like we were participating in a Chinese fire drill! On the way, it was still raining lightly, and the traffic again was stop and go. I told myself not to worry, the Lord would work it out. Sure enough, we arrived just short of 3 hours before the flight, got through the ticketing area, and had about an hour with Mike, Kristina, and Andrew before heading to emigration. We said our goodbyes, and waited again in line. Thank you, Lord, for our friends, the Dubberlys. Bless them and their ministry while we are apart!
Passports, checked...security...baggage checked. Mario, Olivia and I came through with flying colors, but Dan, well, his backpack was thoroughly searched. Everything taken out...ah ha! Found what they were looking for...his favorite pair of small German scissors, which were allowed on American, but, not on Avianca Airlines. Adios! He had to leave them behind. I loved those scissors. I could cut threads, thin plastic, and bandaids and such, and they would still be sharp enough for Dan's hair. He wasn't worried. 'I know just where I bought those years ago, and I can get another pair' he said. Nothing ever ruffles Dan!
So, we wait to board the overnight flight to BA...Lord, keep us safe, and help us to make all the right connections. And most importantly, may we be a good witness...