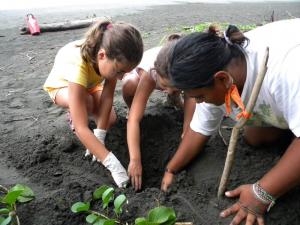 The Pacuare is located between Costa Rica's coastal lowlands and the country's highest mountain range. Besides being home to thousands of species of birds, insets, reptiles and mammals, Pacuare is home to Costa Rica's most important nesting ground for leatherback turtles. On our
Turtles and Rainforest trip
, our travelers have the unique opportunity to visit the Pacuare Reserve and stay at an active scientific research station, which doubles as lodging for visitors.
While at the Pacuare Reserve, travelers are invited to assist the biologists in their
turtle patrols
. The patrols vary by season. During nesting season, it is your job to walk the beach looking for a leatherbacks laying eggs. When you find one, you'll wait with the researcher until the turtle is done laying eggs. Then, you'll have the chance to approach the turtle and assist in measuring and tagging it before the giant leatherback returns to the sea. Turtle egg poachers are a major threat to the survival of leatherbacks, so your next job is to carefully dig up the eggs and rebury them in another location so poachers cannot find the nest.
The Lovato family shares a little of their time at the Pacuare Reserve, and their turtle patrols when they worked hands-on with researchers as they continue to protect, monitor and study the intriguing turtles that return to this region each year to lay their eggs.
About an hour after we got there, we were asked to accompany two volunteers on an excavation. This is where they dig up a nest that has already hatched and count the eggs in categories (hatched, and not hatched but: fertilized, not fertilized, and some more fine categories). The digging is done by hand, scooping out sand, the eggs and anything else you find down there: crabs, maggots, and turtles that haven't yet made it out of the nest. Some of them are no longer alive, but this day we found six live healthy babies! They are set on the sand to perk up and make their way out to sea. The kids were beside themselves with excitement as each little one crawled across the beach. One with a bent shell they nicknamed Peanut. Another baby had a slightly bent flipper. Hope the little guy or girl made it once they started swimming! I was up to my armpits in sand digging, and the kids helped with the digging, and counting once all the babies made it to the ocean. What a way to start our visit!
Click here to read more.
If you had a chance to pick-up the May 2009 issue of
National Geographic
, there is a great article -- "
Ancient Mariner
" -- that addresses the history and future of the leatherback turtles (which can easy reach 2,000 pounds, mind you!) that have endured on the planet for 100 million years. Issues, such as climate, population, pollution and predators, plague these endangered marine giants. But, as Tim Appenzeller in the National Geographic reports, because of their adaptable and resilient nature, some regions have actually seen their leatherback populations increase. A great read, with great pictures.