I am legitimately afraid of heights when it comes to flying through the air on a contraption that is built by humankind.  Standing on a cliff overlooking a several-thousand foot drop?  That's fine.  Flying on an airplane - makes me nervous.  Being stuck on a ski lift or gondola - also not my cup of tea.  When I'm in control, I can handle it, but when I have to trust someone else to not get me killed, that's when things get a little hairy.
Needless to say, I had never been ziplining before I went to Costa Rica.  But I knew I had to do it.  It's part of the Costa Rica experience and just because it seems patently dangerous, bordering on insane, doesn't mean I shouldn't partake in one of the best activities on offer.  So Laura and I signed up for the bigggest, baddest zipline in the country with Sky Adventures in Arenal.  First, you take this relatively benign tram up to the top of a mountain.  Then, you stand on top of a platform in the canopy.  And then, you get connected by several different carabiners to the zipline.  And then you jump to your death ... I mean, to and immense amount of fun!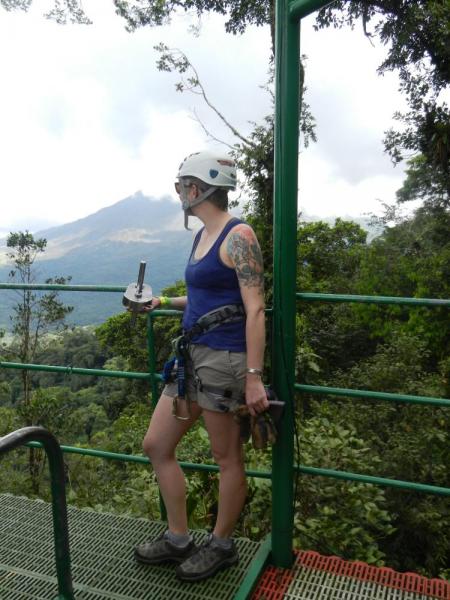 And it was fun!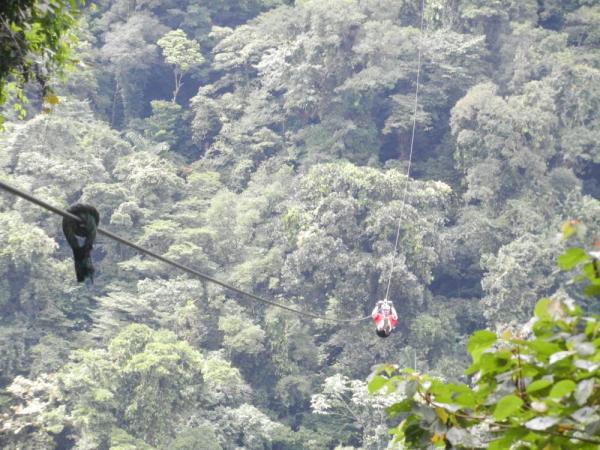 In fact, I couldn't believe how much fun it was!  There were people of all ages in our group.  As young as 12 and as old as 75!  
Check this guy out!
I ended up liking ziplining so much that we did it twice more during our trip and I've done it several times since then.  I do always get a little knot in my stomach every time I fling myself off the platform, but I think that's kinda the point!