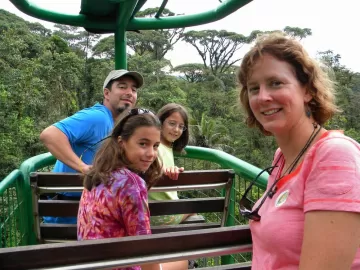 Time to leave Selva Bananito ... but first, one more adventure we hadn't planned on! The kitchen woke up early for us to lay out some fruit, bread and cereal. Very nice of them. We'd asked for a small snack in the morning but they really went out of their way. So sweet.
It had rained so much the night before that our vehicles couldn't make it across the river -- so we got to zipline across to where our taxi was waiting! This time the girls got to go by themselves, rather than be hooked to us. The guide gave them a BIG push over the river. They were psyched to do it w/o mom or dad. Our luggage got to zipline also. By this time we'd been in the harness 4-5 times so we were pretty comfortable with it. So we ended our time at Selva Bananito with a flourish.
Our taxi took us back to town where we met a van full of people going rafting with Exploradores Outdoors company. The van took us to their 'home base' where they had breakfast laid out for us. Since Sirena was too young to do the regular whitewater trip, our family went separately with two guides to a slightly easier part of the river. She lost a contact in the van on the way out and we weren't about to put her glasses on (they'd end up at the bottom of the river).
Our guides were Ricki and Kenneth. We had to drive quite a ways to get to our starting point. Though it was a class III river, they made it exciting, joking with the girls, and yelling 'Oh my gosh' when a wave was about to hit (as if the boat were about to be swamped at any moment). The kids were smiling the whole time. We've been rafting before, but never with such great scenery every where. The primary forest was all around us. We made stops at a number of swimming holes, one with a short waterfall. I saw a bunch of blue morpho butterflies, my favorite. There were also a few places to hop out of the raft and float. Fresh pineapple for snack, and a good lunch at the end -- sandwiches with tortilla, fruit, and Maria cookies with jelly and cream cheese on top.
Ricki chatted with us on the way back, showing us the area, talking about sports, stories of other trips and how he got started being a rafting guide. It was a fun ride. Back at the 'home base' we transferred to the van back to San Jose and Hotel Bougainvillea. We were the first ones dropped off (score!) so we had plenty of time to settle back into our luxury room (yippee for electricity and hot water!!) and spend time exploring areas of the grounds we'd missed last weekend. Picked up some gifts, postcards and souvineers in the hotel shop with the rest of our colon. And yes, hotel had free internet access -- 5 computers in the lobby.
After dinner (the steak bits were back) we laid all our wet clothes out on the balcony (of course, they didn't dry overnight) and propped our wet boots against the railing. I dried our water shoes with a blow dryer just so we wouldn't have to get on the plane the next day with squishy wet shoes.