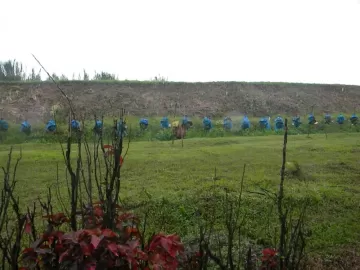 Back to Charlotte today; all four of us were sad to leave! After our last costa rican breakfast -- seriously I'll have to make rice, beans and fried eggs at home -- the hotel arranged a taxi minivan to the airport and our flight home.
We'd come back in a heartbeat. We came in the rainy seasons, but really it only rained a little in the morning and sometimes at night. The only time the rain interfered with our activities was that the horseback ride at Selva Bananito was cut a little short.
James's favorite thing was watching those leaf cutter ants. Sirena's favorite was the rafting trip. Maria's was the horseback ride at Selva Bananito. I guess I'd have to say I loved that the girls got to do the rappel and the canopy tour, and that it was such a safe environment to do so. But my favorite thing may have been the night patrols at Pacuare Reserve.
We would travel with Adventure Life again. The level of involvement was perfect for us. All the accomodations and transfers went smoothly, with everyone right on time, but yet we were still free to do much of the trip on our own and negotiate to our own liking while we were there. I also appreciate the focus on using local guides and services. It makes you feel like you're not imposing too much on the natural environment.
Now we have to start saving for the next adventure!