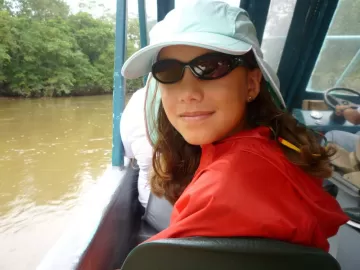 Today was Rivers, Waterfalls, and jungle trails day! Woke up early to go on the Waterfall hike, with Carlos, his helper Victor, and another family with two kids. The family was from Germany and we got along rather well. This was a hike that spoiled us for all other hikes! We must have crossed the river 20 times, with everyone splashing through up to our knees (and the kids waist) soaking wet. We then headed up through the jungle to a gorgeous waterfall (see pics). On the way we saw funky mushrooms, colorful frogs, seriously giant beetles, vultures, and learned about the 'not ready rocks'. The kids had a ball climbing, playing in the water, and breaking the 'not ready rocks' with their bare hands pretending they had super strength.
When we got to the first waterfall we all spent time climbing up and getting a good shower of blissfully cold water. Everyone got soaking wet and it felt great. Next, we walked a short way and we got to rappel down to the bottom of the next waterfall. James and I each went with one child -- so we were strapped to a rope, she was harnessed to another rope, and then we were hooked together with about a 2 foot rope. Felt really safe with Carlos, as he was hooking things up and checking it twice, three times. So we worked our way down -- it was so cool being able to do it together. The kids so proud of themselves when we were down! Then we watched the other family come down and took pictures for each other.
Victor had brought lunch in his backpack and he warmed it up for us.
On the way back Carlos found little areas of the river where Sirena could lift her legs up and float. He was goofing off with the kids quite a bit and had them really laughing. None of the children complained about being tired. All told, the hike took 8 hours and we all ate a huge dinner that night.
After the mostly vegetarian meals at pacuare (which I do love, as I said), I think I was needing some protein. We all ate the great beef, chicken and fish at Selva Bananito. And of course, great rice and beans. The kitchen really did a good job. The kids, of course, loved the dessert. The guides usually ate with us, which was great -- so we could get to know them a little better, ask questions and plan the next day. Someone (can't remember who) pointed us to a great sauce; tasted great with rice and beans.
Rain tonight.