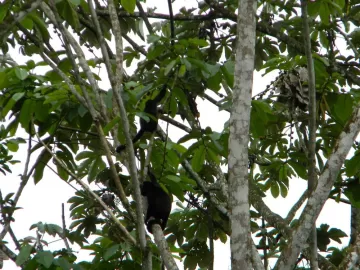 Today we slept in! After breakfast at 8, we teamed up with same family again. Carlos and Victor led us out to the Canopy tour. There's a 30 minutes hike across some fields and through the jungle to get to the first point. Again, James and I each paired up with one child (the kids didn't weigh enough to get all the way across on their own). Each was looked to the cable twice, and also to each other. We zipped out to a platform on a giant tree, then back to the trail, then walked to the start again and went back out to the platform. The zip lines went right through the leaves! You can't see the end from the start.
When everyone was out to the platform, we hooked to a different rope and lowered ourselves down the tree to the creek at the bottom. It was faster than the rappel yesterday and much less work (no rocks to stay away from, just lowering down at a good pace). We went first and got to take pictures and watch everyone else come down. The hike back included more walking through streams. We were soaking wet again! I think our clothes just stayed wet for the rest of the trip.
In the afternoon we went horseback riding to a swimming hole. The horses took guidance well, though they did love to grab a snack as we rode through the high grass. The scenery was amazing. Halfway through it started to rain but no one cared. We'd been wet for days (it's the RAIN forest!). My horse loved to go fast, and would break into a trot whenever some space opened up. Maria's horse had a mouthful of grass or leaves at all times. It's hard to keep them from eating when the food is at mouth level. My favorite part was fording a stream that came up to our ankles. Those horses are seriously strong.
That night we had some packing to do before our departure the next day. Exchanged email addresses with some folks to share pictures, etc. Even more rain that night.