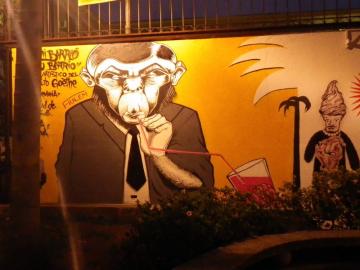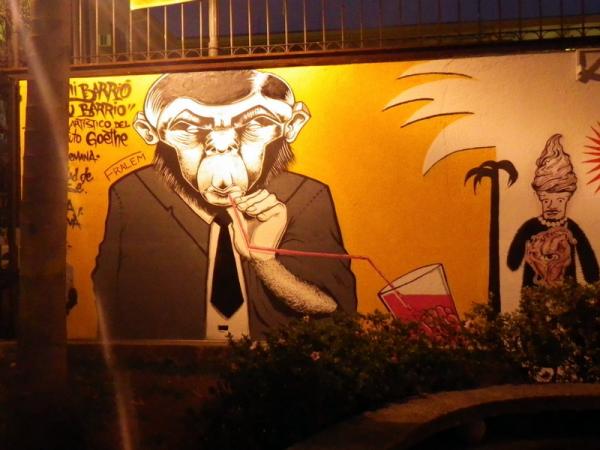 Day 5 meant saying goodbye to Costa Rica and crossing the border into Panama. I didn't fully understand going into our trip that it would be such a literal crossing.
Jonathan gave us a bag of drinks and sandwiches from the staff and drove us to a nearby convenience store where a van run by the rafting group met us. The van's driver took Andy and I to the border crossing, which was a bridge connecting the two countries. We had our passports checked and stamped and waited with our driver.
Gabriel, a friendly but quiet driver from Panama, met us on the Costa Rica side and walked us across the bridge. There were young backpackers and senior tour groups in line with us outside of the of this small cement building that did not scream government center. We stepped up to the window, got our passports stamped and headed on our way.
Gabriel and his brother drove us to our water taxi, which would take us to Bocas del Toro. Their car was pimped out with TV screens in the back showing music videos by Latin American rappers. It was a trip to say the least.
The water taxi ride was just as exciting. We pulled into the town of Bocas del Toro with our hotel in sight. Its bright painted facade of primary colors warmly greeted us and when we checked in we met the owner Carla, an ex-pat. The Hotel Bocas del Toro had a nautical theme and the room was very nice with a great private deck that overlooked the ocean.
Andy and I walked around the town for a bit in the afternoon and took in the vibe of this surfer village. It was a great mix of cultures, that seems to reflect the history of Panama.
For dinner that night we went a few doors down the road to The Lemongrass, an Asian Fusion restaurant overlooking the water with a lot of great fish dishes.
After we found the Barcoo Hundido, an open-air thatched-roof bar that features a sunken banana boat in the waters in front. It was very cool being able to enjoy a beer and watch the fish swimming around the lit ship in the water below. The bar was a bit quiet but it was still early in the evening.
So we finished the night at another local bar along the docks, whose name unfortunately escapes me. It featured live music and a relaxing atmosphere.
Bocas del Toro was proving to be a laid back town with a lot of cool places to hang out.