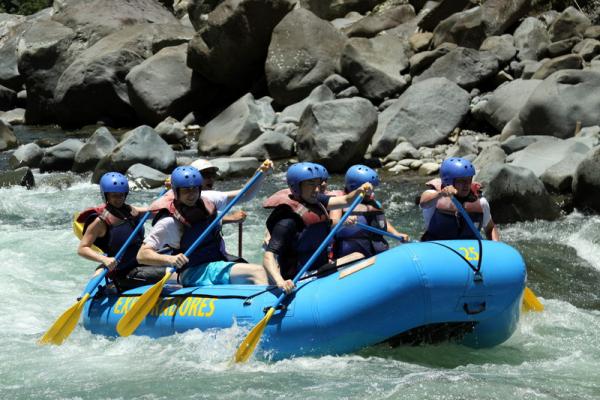 Goodbye to Bocas and hello to Panama City! A small but safe plane ride on Air Panama started the day off. The airport was low security and low service but a lot of fun to experience.
Landing in Panama City, we were greeted by Olmedo, our extremely friendly and knowledgeable tour guide. He brought us to our hotel first so we could check-in and drop off our luggage. Then we started on a full itinerary of seeing all the sights and sounds of this ever-growing city. (Bad joke: their national bird is the crane.)
From the ruins of the ancient city to the story of its plunder by Captain Morgan to the skyscrapers that now rise in the downtown area, it was all explained with enthusiasm and great detail on our private tour.
Olmedo took us for lunch to a cafeteria in downtown that was filled with local businessmen and women from the area. We got to enjoy traditional dishes and learn more about city life. I also got a glass of horchata, which was perfect.
The tour finished with a visit to the Panama Canal and we got to see the Hamburg Sud pass through the locks. It was awe-inspiring to see such human ingenuity come to life.
A full day of touring demanded some time to rest by the pool at our hotel, the Country Inn and Suites, which was extremely comfortable and situated right along the water.
That evening we took a taxi to Casca Viejo, the old neighborhood, to the Tantalo Hotel, which had recently opened and that we read about in the local papers. We had an amazing dinner of tapas-like dishes: roasted tomato and peanut baba ganoush with pita bread; octopus sauteed in coconut milk; chorizo and potato empanadas; and cumin- and ginger-spiced meatballs.
After our meal we headed to the rooftop bar, which offered a great view of the skyline. We met some local girls who invited us to join them as they made their way around some other bars in the neighborhood. People were out in droves, all in a jovial spirit and celebrating a beautiful night. Casca Viejo was definitely the hot spot.