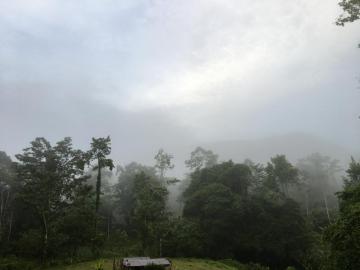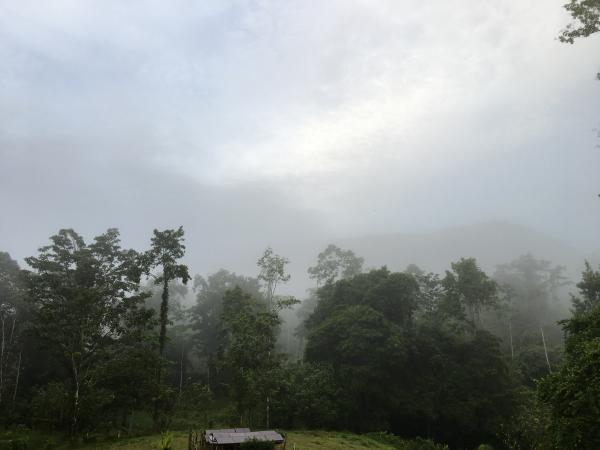 The adventure of Selva Bananito began when my Mom and I set foot in Salon Delia. This quaint little bar had a soccer game on the two TVs and a couple of local men enjoying the Imperial beer while yelling out a cheer after each exciting pass of the ball. It didn't take long for our ride to arrive. The bumpy half hour drive took us deeper into a beautiful jungle. My jaw dropped at one point when we drove through a river…a river. Yes, a river. They told me that at times, the water is so high that travelers have to zipline across. And as each minute passes, the foliage and humidity thickens.
When we finally arrive, were warmly welcomed by our guide, Allan. He told us to settle in to our cabin and meet for lunch at 1 pm. Our cabin was incredible. The room was spacious, beds were comfortable, patio was inviting equipped with two swaying hammocks, and the bathroom was beautifully tiled. We always had a friendly gecko hanging out with us in there. The food at Selva Bananito was delicious. They made my favorite rice of the trip and everything was flavored to perfection. Each dinner had three courses (ask for the heart of palm salad!) and the first night included a complimentary welcome cocktail while discussing the plan for the next few days in jungle heaven. We fall asleep after watching the stars in the sky, and the stars in the trees lit up by thousands of lightening bugs.
Our activities consisted over the next two days of two horseback rides, waterfall hike/rappel, and bird watching. Mom and I were given a tour of the property on horseback the first afternoon. I instantly fell in love with my horse Gotas (which means Drops in English), named after the rainstorm that pounded when he was born. The next day, we went on a full day adventure hike. It was about 7 miles total. Much of it was walking in the river/riverbed, as well as taking paths through the rain forest guided by Allan and his handy machete. Mom and I rocked the waterfall rappel. It was beautiful and so much fun! Allan, and his support guide, Jose, kept us safe. They packed up a great lunch starring – you guessed it – rice, we had some veggies, hard boiled eggs, and cookies. We returned to the lodge, showered, and enjoyed another top-notch dinner. After sleeping hard that night, we woke up early to explore the property to look for birds. We spot toucans, what Allan called the "holy grail" of birds – the Snowy Continga, and have a great relaxing morning. After breakfast, mom relaxes on the hammock and Allan and I enjoy one more ride in the rain.
I will say that you should bring clothes you aren't afraid to get dirty, shoes you can get wet (or they provide rubber boots), and a good set of binoculars. When it was time to say goodbye to this beautiful spot in the world, I found it surprisingly difficult. I could've spent another week at this lodge and not had enough time. Pura Vida, my lovely Selva Bananito.