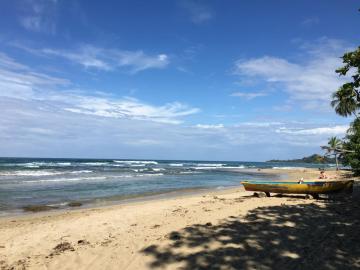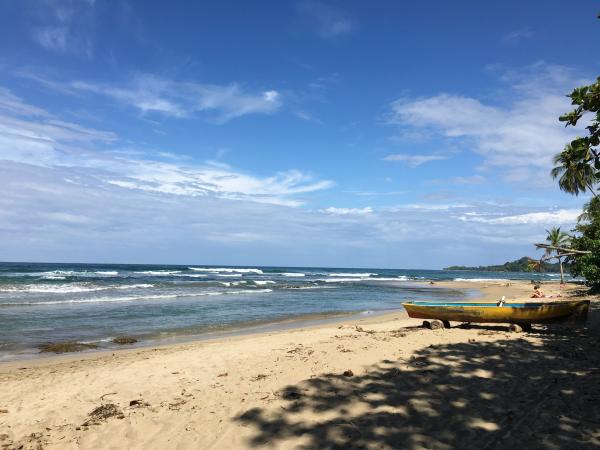 A two-toed sloth (and my first sloth – thanks Jonathan, our driver- for spotting it!) waved us goodbye and we were off to the coast. We switched places with the others on Interbus headed to Selva Bananito and we drove only about an hour to reach Shawanda. Entering back into society was a bit of a shock. That quickly melted away the next morning when I received my lovely mountain of fruit. My love for this coast continued to grow when we were picked up by laid back beach dudes who took my mom and I to the dive shop. We met Francisco who was my fellow Fran. He led us through the safety instructions, got our gear, and we hopped on our little blue boat that took us to our dive spot – Two Towers. We joined a honeymoon couple on this 45-minute dive. Francisco led us through some tests to make sure we are ready for our adventure. Of course he says Mom is a natural! I get too much water in my goggles and come up gagging. Genetics didn't pass that along. But safety tests are over and we dive! It was a little murky, but what a fantastic experience. We see lots of beautiful fish, coral, and other creatures. The 45 minutes is over quickly and we head back. Mom and I see some sloths up close on our way out of the shop and then we return to Shawanda. We take off to explore the beach and spend a few hours just walking down the coast. While making our way back to the lodge from the beach, we spot an ice cream shop called Alice's Ice Cream Bar. You don't see a lot of ice cream in Costa Rica! This little shop had an adorable family from New York, as well as some inventive ice cream flavors (I recommend trying the Sesame). Luckily we were cozy in their building while a storm hit. We lost power at Shawanda for about 4 hours after the storm was over. We ate dinner by candlelight (so romantic for a mother and daughter – ha!) and relaxed for the evening.
The next day we went snorkeling and exploring at Cahuita National Park. Christopher, our guide, meets us at our lodge and is by our side throughout the rest of the day. He takes us to meet our captain and get snorkeling gear. We take a ride in the boat, which brings us close to the Cahuita peninsula and are the first ones to arrive. The water is so pleasant (about 82 F) and it is fairly clear. We could see to the bottom and all of the beautiful, big and small fish in between. We spend about 45 minutes exploring one area. Christopher lets us swim around on our own. It was magical to glide above the tall coral that was home to many small and colorful fish. Other parts of this area opened to a deeper section where schools of larger fish swarmed, and a stingray chilled at the sea floor. The ray was probably as long as I am – that's a big dude. We went to a second location for another 45 minutes that had lots of urchins, huge puffer fish, and many smaller colorful creatures.
Christopher then takes us to shore where we say goodbye to our captain and walk for a couple of hours down the peninsula. We see lizards, spiders, sloths, white-faced monkeys, and always have a constant view of the ocean. Our guide teaches us interesting facts about the different animals, insects, and foliage. It was a fun and relaxing end to our day in the water. We head back to Shawanda and lay low the rest of our day. We experienced an incredible Costa Rican, Pura Vida, while at the Caribbean coast.