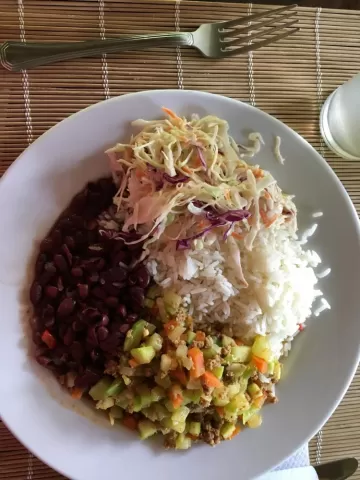 I was told to expect to eat rice and beans when I traveled to Costa Rica. Little did I know, I was going to crave it when I came home. Rice and beans in Montana is a side dish. But in Costa Rica, they are the stars of the dish. Every time I ate them, they were different, but always boldly flavored and extremely delicious. Who knew white rice could taste better than a buttery grilled cheese. If I knew how to make it to that perfection, it'd be on my plate every night.
Not only were the rice and beans the star food of Costa Rica, but the FRUIT. Oh, this little Northwest girl was in heaven. Every morning, I began my day under a mountain of mango, watermelon, lychee, pineapple, plantains, papaya, guava…shall I go on? A mountain, people. And the coffee, oh the coffee. Ask my sweet husband and he'll tell you that I'm a tea lady. If I had a choice, every day I choose tea. But my first taste of coffee got me hooked. It was like a full-bodied red wine. Costa Rican coffee is dark (but not burnt – take a hint Starbucks), rich, and delicious. I had this dark goodness each day, which was not a normal option for me.
Back at home, I'm now missing my daily rice, beans, mountain of fruit, and a coffee that made me cheat on tea.