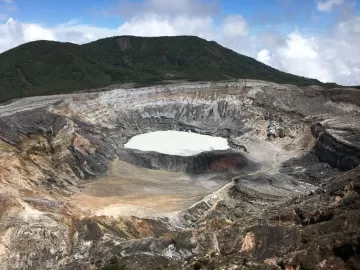 My Mom and I were lucky to have a couple of days to explore San Jose and the surrounding area. The day we arrived, our friends and coworkers met us to show us the city. We drove through downtown and to an outlying city called Cartago. We explored a place called Magmatica. This company had set up a linear presentation of Costa Rica's geological and ecological history. We learned about Costa Rica's treasured creatures, how the continent came to be, and then had an exciting time experience an earthquake simulator. The simulator gave us a taste of four earthquakes from a 6.1 all the way to Limon's 7.6 earth-shattering tremors. They ended the tour with one of my favorite meals during our stay in Costa Rica. I had a delicious piece of beef, delicious local potatoes, and vegetables. And of course, a satisfying fruit blended drink made from papaya. We visited the Santiago Apostol Parish Ruins on our way back to San Jose. This was a church affected by an earthquake in 1910 and its construction was cut short by the destruction. It is now an incomplete structure surrounding a beautiful garden inside the remaining walls.
On our return to San Jose from Puerto Viejo, we rafted the Pacuare River with Rios Tropicales. Our morning began with an early pick us that brought us to the Rios Tropicales building 2.5 hours later. We could spot Turrialba smoking as we pulled into their property. We were greeted by a staff member and shown where we could store our luggage in a locker that was secured while we were rafting. We brought only our water bottles and sunscreen. They had a big buffet breakfast as well as gave us time to browse the gift shop. We met our guide, Kevin, and loaded up the bus to drive the 45 minutes to our destination. The bus had about 20 people and we were all divided into four groups of five. Kevin was an incredible raft guide and made us laugh at every bend. He was serious when he needed us to paddle and then would crack a joke a second later. At one point, we grabbed mud from the riverbed to give ourselves "facials". Everyone wondered how my mom and I survived our trip in Costa Rica when she fell out and I gave myself a bloody nose by smacking my paddle into my face. The river was full of fun and rolling rapids. We pulled out at a spot that left us only 10 minutes away from the Rios Tropicales building. After grabbing our things and a few souvenirs, we hopped back onto the bus to catch a ride into San Jose.
We ended our time in Costa Rica with the Doka Coffee Tour, Poas Volcano, and La Paz Waterfalls tour. This day was packed full of amazing and fun experiences. We were two in a group of 16. Our guide, Hernan, fluidly spoke in English and Spanish to talk about each section of the tour. We were lucky to be one of the last ones picked up and first dropped off. I'd recommend staying in Alajuela or near the airport for this tour to make the transportation much shorter. We began with a breakfast at the coffee farm with rice, beans (duh), plantains, eggs, fruit, and of course – great coffee. We explored the coffee farm, learned about its functions, and had an opportunity to buy coffee/souvenirs. We moved on to the Poas Volcano and drove to the trailhead with our group. It was a quick 10-minute walk to the overlook of the gorgeous crater. We were unbelievably lucky to have a nearly cloudless morning to see a rare view of the volcano not wreathed in clouds. Another 10-15 minute took us to a lake that had filled a much older crater. We worked our way back to the bus to take us to the La Paz waterfall gardens. We then enjoyed a buffet lunch overlooking the surrounding jungle. After our lunch the group picked up to explore the gardens. The animals we saw included toucans, parrots, cougars, leopards, tons and tons of butterflies, snakes, my favorite – the colorful tree frog, and monkeys. The end of our tour was a walk down to the La Paz waterfalls. They were gorgeous and a lovely way to end a long day of exploring. Hernan led a wonderful day and imparted knowledge and an explanation of each place. The bus dropped us off just before dark and we savored our last day in Costa Rica.