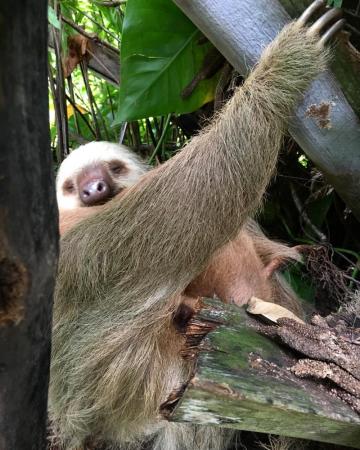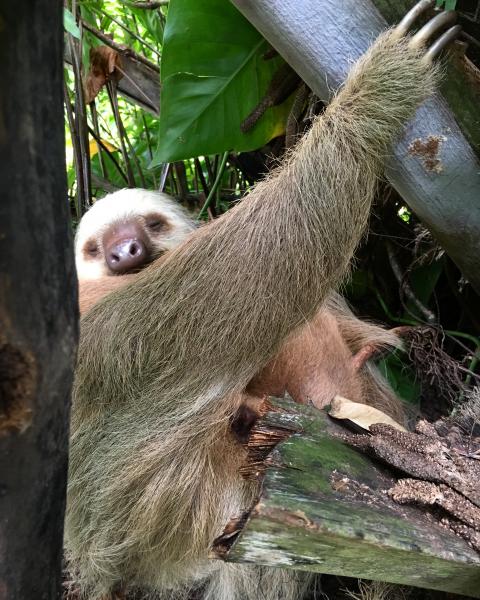 Costa Rica is full of wildlife and INSECTS. My immersion into this rich environment began on our way to the jungle. I saw a huge centipede the size and length of my pinky finger. As we engaged with our jungle environment at the lodge, butterflies and birds surrounded us. Many other creatures were present that we couldn't see but could definitely hear. I loved the fact that night and day had a chorus of chirps, screeches, tweets, and indescribable other sounds. We glimpsed many colorful frogs on our hike to the waterfall including tiny red poison dart frogs and my favorite – the larger green and black poison dart frog. Of course, our bathroom always had a friendly gecko and a small salamander made his home in my mom's napkin every night. Allan said he was drawn to the white napkin so he could spot insects better. One of my favorite creatures was the Golden Orb spider. They spun the most beautiful webs out of gold silk. The strands were as strong (if not stronger!) as a thick piece of hair. On our bird watching tour, we were lucky to spot Toucans, Snowy Continga, and many others.
While exploring Puerto Viejo, we saw many sloths, some super close! My favorite encounter was when we spotted three sloths ironically chilling outside the scuba dive building like they were their mascots. One had her baby snuggling in her belly. It was a beautiful experience. We saw a couple more when waiting for our snorkeling captain at Cahuita and several while strolling through Cahuita National Park. The National Park was home to many fun creatures. We saw lizards, hermit crabs, LOTS of spiders. We met the curious, trouble-maker, white-faced monkeys and spotted a howler monkey napping in the branches above. Every morning and evening at Shawanda Lodge, we'd HEAR the howler monkeys, but didn't see them very often.
You can expect to be surrounded by wildlife when you visit Costa Rica. And if you didn't see a sloth, you probably weren't looking hard enough!