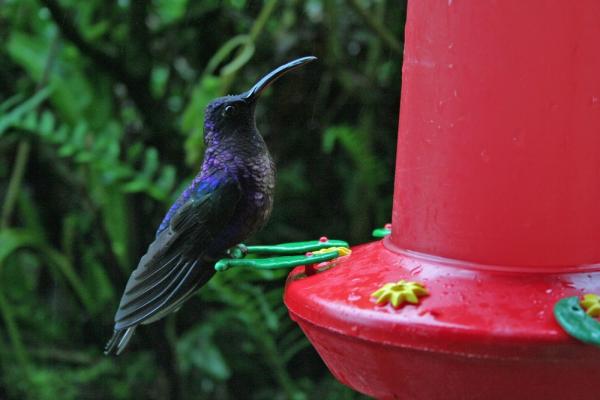 A leisurely start to this day with coffee on the veranda looking at the Pacific across the grounds of La Cusinga. Our weather was mostly warm and dry. After breakfast there was a nature walk through the forest. Mario helped me get a good photo of a waterfall. Then a nice lunch. This is good opportunity to praise our meals here. The open air dining area was always pleasant. The food was fresh and varied. The staff was very friendly and helpful.
This part of the trip offered various options. For this afternoon we decided to go snorkeling at Ballena National Park. We could see a sand spit from La Cusinga that became exposed at low tide and led to a rocky islet. It was a short drive there and then about a mile walk on the sand. We were actually splashing through the water at first as the water level was going down on both sides. The wave action was very unusual. The waves came straight at us from both the right and the left, meeting in the middle.
We snorkeled in warm, clear water for 45 minutes. Saw a nice variety of fish and one eel. On the walk back, the sand that had been underwater was now a dry expanse around 200 feet across.