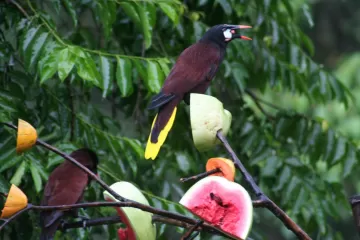 Before leaving Arenal Lodge we got a good look at their resident mascot, a wild oncilla. This is a wild cat that looks like a small leopard. It was an orphan and spent the first part of its life with a family. It is now encouraged to live wild but it likes to hang around the lodge. It would be rare to see this species otherwise.
This was mostly a travel day but in Costa Rica that still means new bird sightings. Colorful birds such as the Montezuma oropendola flock to the feeders outside the dining room. A leisurely breakfast was a nice way to start the birdwatching for the day.
Our route to Monteverde included a boat trip across Arenal Lake where birds included Anhinga, kingfishers, woodpeckers and cormorants. On the far side of the lake a van took us up a steep dirt road that opened up views across lush valleys.
At our lunch near the Hotel Montana there were more new bird species such as black guans and chlorophonia. The bird list we got at the start of the trip helps me recall and spell these things.
Although this area is the central highlands, from our balcony we enjoyed a beautiful view to the Pacific along with a nice Chilean wine.