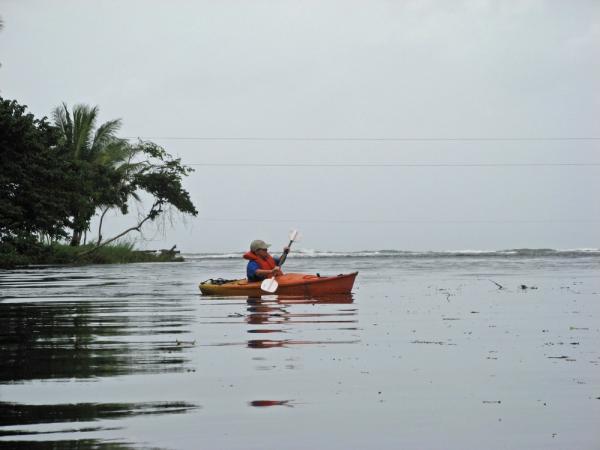 Another early day with the 5:30 AM start to the boat tour back in the canals. A warm dry morning along the tannin-stained waters gave a chance to see the birds and animals up close. I began a list of bird species I'm still trying to reconcile with the photos of same. It includes tiger herons, night herons, pale-billed woodpecker and kingfishers. White-faced monkeys, long-nosed bats and iguanas also accepted our presence.
It was still morning when two of us rented kayaks to visit other sections of the canals. Our destination was to reach the Caribbean, which was possible with the high water levels. The calm water had little current and we were alone to savor these peaceful lush forests. Along these narrow waterways we passed a caiman sunning on a cluster of vegetation. My good friend Marilyn, however, was unwilling to paddle up next to it so I could get a picture. ("But we could win the Adventure-Life photo contest!")
We were back to the lodge in time for lunch. The rain had started as we kayaked but we were dry in time for the 3:30 PM jungle hike. Everyone was given rubber boots to wear--a true hint of the trail to come as the rain increased. After all, it is a rain forest, people! This was a chance to see more nocturnal critters including tree frogs and boat-billed herons. Another lesson--it is a fine line between starting a hike near dark so you can see the animals and starting so late that it is too dark to see anything.