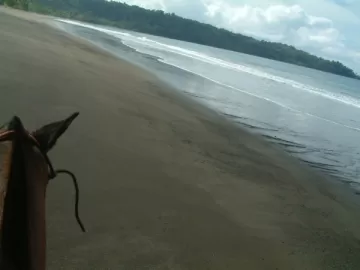 Today was a transition day between the two legs of our trip. We had to be packed, leaving our bags for the staff to take down to the bottom of the hill. This was a return of the trip in – boat ride, van ride, plane, van, back to hotel in San Jose.
But a surprise awaited us!
Someone else at the lodge had mentioned mangroves but we hadn't seen them on the ride in. The first boat ride was supposed to take an hour but took almost two (island time). So the ride back we were met with a surprise when we turned quickly and found ourselves in this amazing mangrove with roots everywhere... Better than a disney jungle cruise any day!
We were famished by our journey by the time we got back to San Jose, same hotel, and settled into our new rooms. Decided to go back to the same restaurant as Sunday since it was so close. A 24 hour restaurant, early afternoon it was slammed. I ordered my meal and then ordered rice pudding - primero. "First?" the waiter was confused? Si. So I knew I could eat something quickly.
That evening we had to repack for the next leg of the trip.