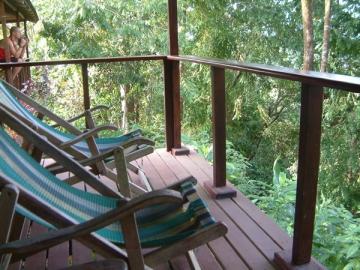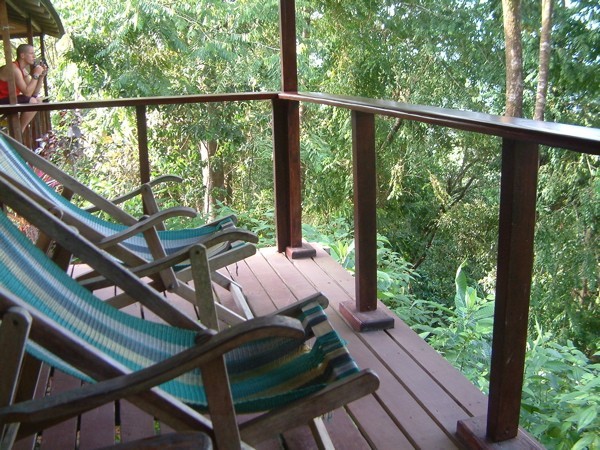 Today is the day we'd all pined for – whitewater rafting on the Pacuare for the full day!
Words cannot describe this experience. I have been waiting for this day for so long and planning this trip finally coming to fruition. Our guide from the day coming in had to raft others out yesterday so we got a new guide - Gustavo. Although not as funny/entertaining, Gustavo was experience, knowledgeable and walked us through each rapid beforehand. Asked later he said this was his favorite river to raft out of all of them (originally from Argentina and works the circuit including the states). Mostly because the river changes every day, year round.
There were six boats plus our gear. On one of the early rapids our boat was one of the first down. I looked behind me and realized that all the other boats went down a different route. That's when I realized our guide was taking us through the more complex parts of the river. Some of the other boats included most people who'd never been on a river before, so I was grateful for my limited experience. Not being the rainy season the Pacuare was a little shallow but that also allowed us to see the terrain. We got stuck on rocks on occasion but it was all in good fun.
A stop at an amazing waterfall and then a big group lunch. We were at a point on the river were there were no roads in or out. Complete jungle. Indigenous indians somewhere within. On the final leg, our group rearranged our order and we were much more in synch.
On the second to the last rapid all the harping on safety was needed. I'm not sure what happened, but maybe we hit a rock. My friend in front of me started to slip out sideways. I couldn't reach her and the other two shifted their weight and we all went tumbling. At the top of the rapid in shallow water I immediately hit rocks and had difficulty turning my body so that my feet were first. Finally letting go of the oar, I was able to get myself so that my feet could brace the impact of the rapidly approaching large wall. All the while holding my nose and keeping my eyes closed under water. Came up twice and got pummeled through to the end where I came up surrounded by boats.
We were all rescued quickly. It took the wind out of us. The next rapid the other boat of our new friends 3 fell out at the bottom in calm water but nothing as dramatic. Our fun was slowly coming to an end. The river was becoming more flat. At the take out we were able to dry and change before getting in a van for a three hour drive back to San Jose.
Where do I sign up to do this again??!