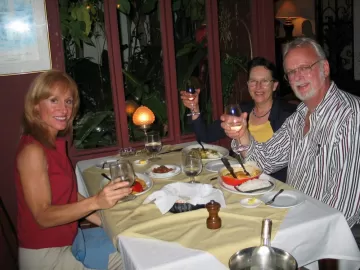 After breakfast the next morning, our driver arrived for the long trip to Pacuare Nature Reserve. Marvin, the driver (he, like most of the guides, anglicized his name. Amy speaks excellent Spanish, and I can stumble by even without her, so that wasn't really necessary) was friendly and efficient. He stopped often to let us enjoy and photograph lovely vistas, and pointed out a family of tree sloths; and he seemed to know all the best Sodas for on-the-road lunches.
[Photo 4: The Costa Rican Rain Forest]
[Photo 5: Tree Sloth mother with young]
We drove through an agricultural town with a banana packing facility, down a long road, deeper and deeper until the paved road ended. We followed a dirt road for another few miles until we came to a river. There, we waited until the folks from the Reserve arrived. After about an hour, a long, motorized canoe came in, and we loaded our gear and got on board for the trip.
The Pacuare Nature Reserve is primarily a facility for sea turtle research. They're not really set up for tourists…there are only two rooms for guests, and no electricity. The refrigerator runs on propane, and there are no lights after dark except by battery. The shower is cool, using collected rain water (Wendy and Amy talked me out of dancing naked in the forest after showering singing This is the Dawning of the Age of Aquarius). Nonetheless, the experience at the Reserve was the most unique and fascinating part of the trip.
[Photo 6: Guest quarters at the Pacuare Nature Reserve]
Our guide, Alvaro, was a herpetologist from Spain, and was excellent, even though we did take him away from some of his research activities. We started out with a walk on the beach, where he found and excavated a recently hatched leatherback turtle nest. Nearly a hundred eggs were there, and many didn't hatch, but there was enough evidence of successful births to give hope.
[Photo 7: Turtle research: Alvaro excavates a nest]
Dinner was brought in by two local ladies; beans and rice (alternating with rice and beans--Tico food is not the most imaginative, even if it's always tasty). Then, once it was really dark (there was a new moon that night) we all went on a long walk on the beach.
Did I mention it was dark? Seriously dark. We all had flashlights with red plastic covers so when we encountered a turtle, the light wouldn't disturb her. We were cautioned not to use them in general, because there were poachers in the vicinity and they were armed. (Great…the news that no one had yet been shot was comforting, sort of). I wondered how we'd notice the turtles.
Then I found out. The turtle was huge, seven feet long. These were Leatherback Turtles, the largest of all the sea turtles. She was visible in starlight, even if you couldn't hear her huffing as she crawled up the beach to find just the right spot to lay her nest. She dug a five-foot deep hole, and once she started, nothing we did could distract her. She began to lay her eggs, and Alvaro left us to get a tape measure for the turtle's carapace. I held Amy by the ankles while she shone the red flashlight on the turtle's rear end and counted the eggs (there were 109, thank you for asking).
Over two nights, we encountered five turtles, each at different stages of the process. Gad! How many people can say they've experienced such things? "Adventure" Life, indeed!