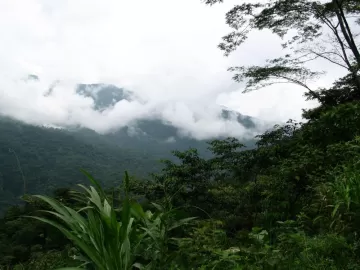 For the next morning Alvaro took us on a nature walk. Now, this is deep in the Costa Rican jungle at the Caribbean coast, so calling this a "nature walk" doesn't do it justice. Helliconias grew in outlandish variety, each more extravagant than all the others, with other plants even more exotic.
[Photo 8: Helliconia in the forest]
Big Howler Monkeys and Spider Monkeys, both endangered species, filled the trees. The Howler got their name from their call, deep, loud, like a bass drum in a primate; it can be heard for miles.
[Photo 9: Howler monkey]
We found tiny frogs with wild colors. One, the "blue jean" frog with blue hindquarters and bright red front, was poisonous, used by indigenous folk for their arrows.
[Photo 10: Poisonous Blue Jean Frog]
Deep inside was a pond covered in vegetation, filled with beautiful birds. It was like encountering another planet--and we're from subtropical southern Florida!
[Photo 11: A Heron in the Pond]
That afternoon, Alvaro took us up river in the Center's boat, and the scenery was again gorgeous. We saw no crocodiles, and that was probably just as well. He somehow located a bar in the forest where we enjoyed a local beer and chatted with the bartender. The Costa Rican accent is about as pure as one can find among Spanish-speaking countries, and I had little problem following him.
That evening, we again joined the researchers in a beach hunt for Leatherback Turtles laying their eggs--this time we found three, after walking for several miles. We slept soundly that night.