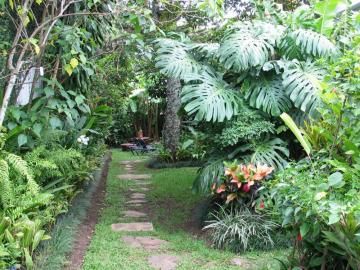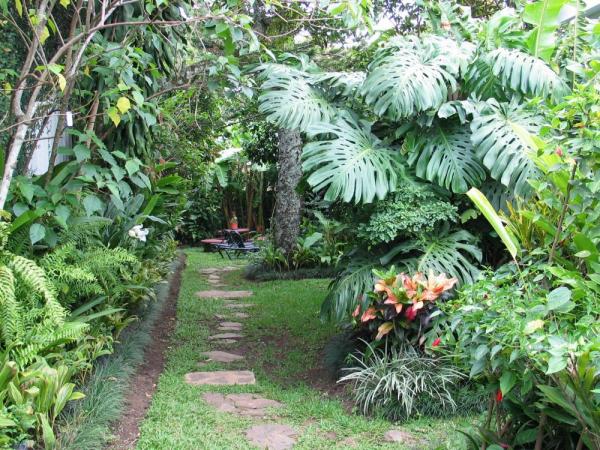 Note: This was the second trip with Adventure Life for me and my wife Wendy--three months earlier we'd gone on a tour of Patagonia, and found the trip so fantastic that we talked our friend Amy Litos into joining us for Costa Rica. The Patagonia trip was a celebration. We didn't travel during 2004 because I was battling colon cancer, getting disemboweled and pumping expensive and highly toxic chemicals into my body. The fact that I'm writing this now indicates that I won.
The flight from Ft. Lauderdale to Costa Rica is short, just over two hours; they're on Central Standard time, so during the DST months, you arrive about the same time you leave. We got in to San Jose early enough to enjoy a walk to the town center, which is filled with charming markets. We had a glass of wine at the Teatro Nacional, a beautiful, elegant building that's the cultural center for the nation.
[Photo 1: Wendy and Amy at the Flower Market]
Hotel Le Bergerac is a jewel…located just outside of the center of town, it's an elegant and comfortable place often used by visiting diplomats. Rooms are spotless, service is friendly, courteous and attentive, and most have a garden just outside where you can sit and enjoy the serene beauty.
[Photo 2: The garden outside our room at Le Bergerac]
And the real treasure is their restaurant, L'Isle de France. It has a wonderful continental menu, and the two dinners we had there were exquisite, from escargot to veal to delicious desserts.
[Photo 3: Dinner at L'Isle de France]
Costa Rica, like much of Central America, doesn't use street numbers, and street names are rarely posted. The hotel's address was La primera entrada a Los Yoses, 50 metros sur…"the first entrance to [the neighborhood] Los Yoses, 50 meters (1/2 block) south," which is the descriptive style they use to identify places. I would despair to rent a car there and try to find anything. Mercifully, Adventure Life's transportation arrangements worked flawlessly.