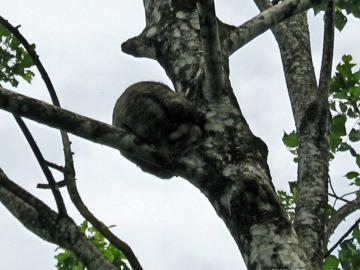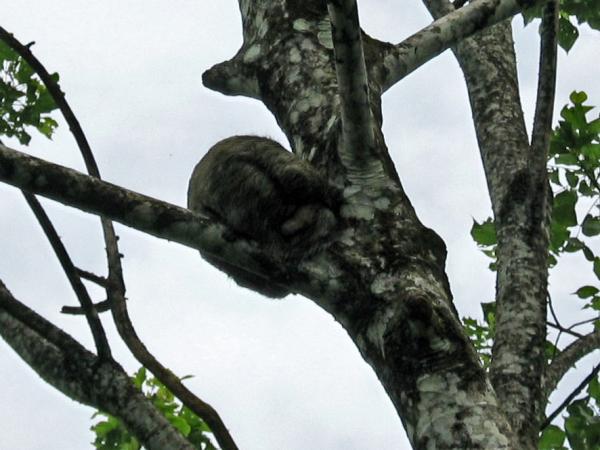 After two nights, we left this wonderful spot and its delightful people for the Selva Bananito Lodge.
This was decidedly less rustic, but no less adventurous. The cabins are beautiful and comfortable, and each has only three walls. The fourth opens onto the most glorious view I've ever had in a hotel: a mist-shrouded mountain forest seen across a lush valley.
This lodge also had no electricity or hot water (the water was lukewarm and perfectly comfortable for showering). Mornings were magical…flocks of blue-head Pionus parrots flew past (we've had one for a pet for over thirty years), and the dawn gradually reveals a magnificent mountain view as the birds call out to each other in the morning symphony.
[Photo 12: Our cabin at the Selva Bananito Lodge]
[Photo 13: The view from our cabin]
Marvin, the driver from earlier in the trip, dropped us off in early afternoon. After getting unpacked and oriented, we all went down to a huge tree with cables hanging from the top. Once strapped in, one could pull oneself up nearly to the top--theoretically. Neither Wendy I could get more than a few feet off the ground, though Amy pulled herself all the way to the top, twice!
[Photo 14: Amy at the top of the tree]
Dinners were communal. Most of the guests were newlyweds (and adorable), and took our thirty-years-and-counting marriage as a sign of good luck. The dishes were not especially imaginative, but they were well prepared and satisfying, and sometimes quite delicious. They also had the most amazing array of fruit juices I'd ever encountered: carambola, tomatillo, blackberry, you name it.
[Photo 15: Dinner at the Selva Bananito Lodge]