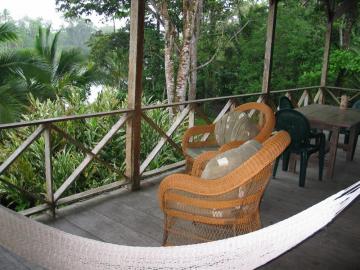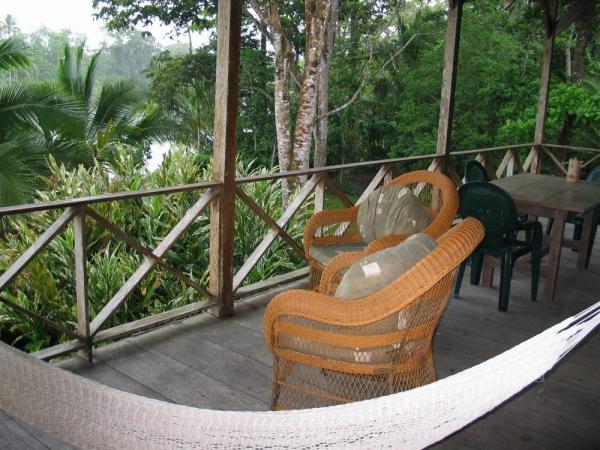 The next day presented a choice of many activities. We chose a hike up a creek bed to a waterfall. Justo was our guide throughout the stay, and he was great--quiet but always helpful and knowledgeable, perfect for our group.
One of the honeymooning couples joined us, and we were all enchanted by the array of wildlife along the creek--frogs, crayfish, spiders, lizards, snakes. The hike was a rough one, too much for Wendy's feet, so we turned back about halfway into it, but our friend Amy made it the whole distance, including rappelling down the powerful waterfall itself. She later pronounced it the most strenuous thing she'd ever done...and she loved every minute. And that includes the encounter with a fer-de-lance, one of the most poisonous snakes in the New World.
[Photo 15: Justo, a honeymooner, and a crayfish]
[Photo 16: The Waterfall at the end of the trek]
We spent the afternoon, joined by Amy, in the hammocks on the deck of our cabin, listening to the birds, reading, sipping wine, and enjoying the serenity and the view.
[Photo 17: After the waterfall: a day seized]
Dinner was again communal and candle-lit. A Chilean Sauvignon blanc wine went well with the roasted chicken (and rice and beans).