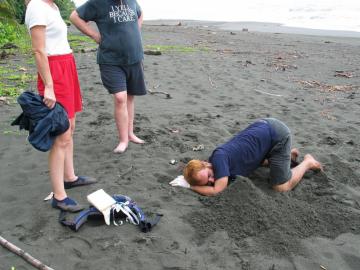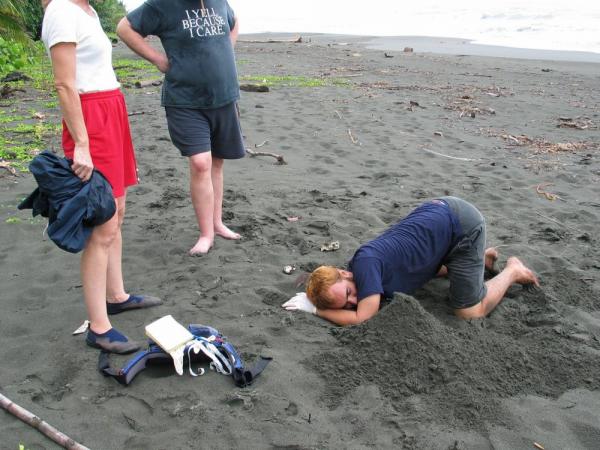 The next day was devoted to a jungle walk and zip line. This area was different from the Pacuare Reserve; it was higher in the mountains, cooler, with a different flora and fauna. We encountered a coral snake, hummingbirds, toucans, and more ants than I've ever seen in one place, including parades of Leaf Carrier Ants, engaged in their appointed mission: carrying leaves.
[Photo 18: Leaf Carriers, carrying leaves]
[Photo 19: A Keel-billed Toucan]
Then there was the Zip Line. The way this works is, you go to a high point, a hill of some sort. From the top of the hill, a heavy steel cable connects to a very tall tree. You put on a harness, some heavy gloves, a helmet, and attach yourself to the cable on a pulley. The hill is a bit higher than the tree, so you're heading downhill. You then jump off the hill, and slide along the cable at a screamingly fast rate to the top of the tree, landing with enough force to flatten poor Justo. Justo's job is to keep you from killing both yourself, and him.
He succeeded, in that we all lived, despite the fact that I almost crushed him and Wendy would have broken her head if he hadn't caught her in time.
Then we had to rappel down on ropes to the forest floor, which was about a thousand feet down (actually, we were told it was around 90 feet, but I think they were lying). We again succeeded (no one died), though I lost several style points with my initial ten-foot drop before I stabilized. The experience is now filed under the category "I'm glad I did it once. Never again." Perhaps people like me with serious acrophobia shouldn't do Zip Lines.
[Photo 20: Wendy rappels to safety]
The walk back to the lodge through a creek bed made up for any feigned terror from the Zip Line experience; it was so lovely and peaceful. The forest canopy was thick, and sunlight only came through in spots. The creek was lined with black, volcanic rock, and big, blue Morpho butterflies passed lazily through the sunbeams.
[Photo 21: Returning to the Lodge]
After dinner, we managed to confirm what we had suspected during the last two nights. Adventure Life had generously included a "Bat Supplement" at no extra charge. With the open wall, every night just after sundown, and every morning just before dawn, we had several bats return to roost in our ceiling, or whatever bats do when they sleep. We set the camera on flash and made random shots of the ceiling. Here's one of the better photos.
[Photo 22: The Bat Supplement]