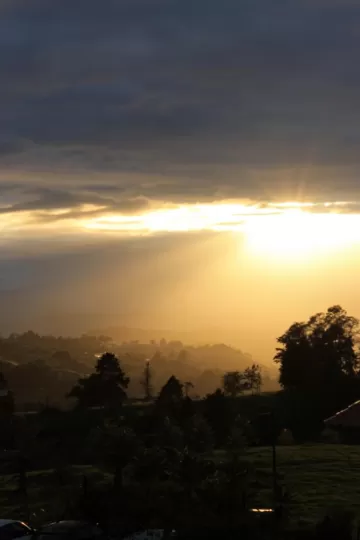 We have a busy day planned for our last full day in Costa Rica. This morning we are kayaking in the Hatillo Mangroves then we will be setting off for San Jose. When we met our guide we were thrilled to see Erick again. After a short bus ride to the point where the river joins the ocean, we were on our way. We navigated narrow water ways learning about the trees, fish, birds, and animals that are uniquely adapted to the brackish water of the mangrove swamps. The silence was suddenly interrupted by a shout from my son. It seems as he explored the shoreline, a fish jumped and hit him in the face. After a few piranha jokes, things seemed to settle down. . .for a while. Then, at nearly the end of the paddle, Mark happened to notice the pair of eyes just above the water line. Yes indeed it was a small crocodile with just his eyes above the water. Our guide explained that small crocodiles do inhabit the mangroves until they grow too large and then move to a larger river. This was indeed a preview of what was yet to come.
After checking out and starting our trip back to San Jose, we were able to quietly revisit all the adventures we had had on our vacation. Our driver let us know that maybe our sightseeing was not completely over. He stopped at a bridge where the highway crossed the Tarcoles River and let us out to view what was below. There on sandbanks were numerous, very large, crocodiles. It seems that the sheer number and size of these guys indicated they had found a happy home in this large river.
As night fell, we entered San Jose at rush hour. After days in smaller cities and the countryside, it was the first step to returning to our world.