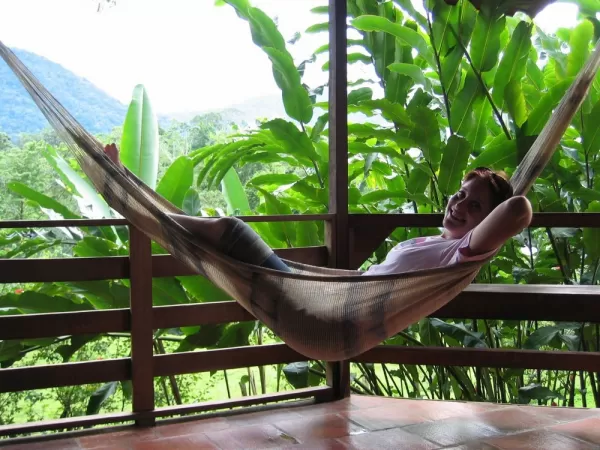 I'm blaming the day on my shoes. Watersocks, to be specific. Neither Alan nor the intern, both outfitted in knee-high battle-ready galoshes, were thrilled about my choice to wear rubber slippers with cotton socks on the hike up the creek to the waterfall rappel, but as I saw it, I didn't really have a choice – I still had five days left of vacation, and I couldn't afford to ruin my sneakers.
"Are you sure?" Alan asked before we took off, glancing skeptically at my feet.
"Yep."
Costa Rica's rainforests are regions of vivid color, untarnished by artificial lights and sounds. Sunbeams bound from leaf to flower and then kiss the ground, still replete in their purity, unfiltered by smog. Even though shortly into the hike I already had mud splatters on my calves and sweat running down my spine, I felt as though I was in a place breathtakingly clean. No screeching brakes, no honks shredding the air, no soggy newspapers, no discarded cigarette butts, no dull gray, no flashing neon, just emerald, silver, sapphire, ruby, amethyst, and pearl. Just the love songs of birds, the humming of insects, the velvet of sunshine, the giggling of streams, the secrets whispered between the breeze and the leaves. It's like putting on glasses and seeing the world in all its clarity, depth and richness for the first time. Or maybe it's like taking them off. I couldn't decide which way to point my camera. It didn't matter. None of the photos I took could honestly recreate the scenery on a tiny digital screen.
Although part of the reason Jeffrey and I were consistently lagging behind our Costa Ricans guides and the surprisingly sprightly German was because we kept stopping to take pictures, the ultimate cause was my shoes. The fact that we were uncoordinated, out of shape and easily distracted had absolutely nothing to do with it.
"What is wrong with these people?" Jeffrey asked, when we turned a corner and found no trace of anyone in front of us. "What did they eat for breakfast?"
"The same rice and beans as us." After only a few days, we already knew gallo pinto was a Costa Rican staple.
"It appears walking the mile around the apartment complex, with no significant variation in elevation, is not the correct endurance training one needs for a trip to Costa Rica." Jeffrey muttered. "That hovering ability would come in real handy right now."
Occasionally Alan took pity on us and hovered at the back of the pack, waiting for the Americans to catch up. He took these moments to point out his favorite flora and fauna.
"We call these leaf-cutter ants," he said, pointing down at a line of industrious insects, each carrying a flutter of green three times as big as itself. "The natives used to follow these ants' traces to create trails. The ants always find the easiest path. Some of those trails are roads or highways now."
Further up, he stopped at a mound on the side of the path and started banging on it with his walking stick. Fun, I thought, and I started hammering alongside him, to help.
"This is the nest of some bullet ants," he said, as he continued to bash at the hardened crust. "Do you know why we call them bullet ants?"
"No," I said, pounding with my stick. "Why?"
"Because when they bite you, it feels like you've been shot with a bullet." Alan giggled.
I stopped abruptly, but couldn't keep my voice from screeching. "Then why are we disturbing them?"
"Heh, heh," Jeffrey snickered from behind me.
Alan was undaunted. He had already moved on to his next show-and-tell. "This we call a walking tree." The palm he pointed to looked like it was resting on several thin stilts, about chest high. "It grows new roots on one side, while the roots on the other side shrivel up and die. It that way, it can move up to a meter a year to get more sunlight."
Alan watched as Jeffrey took several photos in rapid succession, moving around the palm for different light. I almost expected him to tell the tree to "work the camera."
"By now, you're pretty much out in the middle of nowhere," Alan said.
"I think we started out pretty much in the middle of nowhere," I responded. Especially for a New Yorker, for whom Yorkville is considered the middle of nowhere.
Several hours after we had started out, we finally reached the waterfall. By that point, I counted two holes in the fabric of each shoe. I hadn't worn my watersocks in a number of years and they were disintegrating. Although they hadn't been very practical on the hike – I could feel every stick and root and stone through the soles – the shoes did grip the rocky face of the waterfall as I lowered myself down.
The reserve's intern had rappelled first, to show us how to do it. No problem, I thought. To see her, one wouldn't think it was any harder than walking down stairs backward. When I finally started my descent, however, I realized I had greatly underestimated the slipperiness factor, not to mention the poor-view factor, and the gallons-of-freezing-water-angrily-rushing-at-my-head factor. The hardest part was the start, when I had to convince my body that it was OK to lean back into nothingness. The curve of the rock made locating the next foothold difficult. I tried to trust my body, sneaking one foot down and then the other, hoping they'd find something to support them. Alan had told us to stay to the left of the rushing water, where visibility would be better, but, as is always the case in nature, the water had found the quickest, easiest way down the cliff and gravity wanted my body to follow. I kept swinging in and out of the flood, heading in whenever gravity won, heading back out whenever my muscles triumphed. More thrilled than scared, and more giddy than anything else, I hit the pool at the bottom and immediately wanted to try again. I hadn't looked as Lara-Croft-cool as I had wanted to, I was sure. But there was no climbing back up the hill, and anyway, it was Jeffrey's turn.
I should have known this was going to be an issue when I saw how many tries on average it took him to sit in his hammock. I should have known this was going to be an issue when arranging the mosquito netting around his bed had proved to be as challenging as the hammock. He started out well enough, but one slip sent him into the water stream and he couldn't get back out.
"Lean back," Gitta shouted. "Like Spiderman!"
But spiders don't like water slamming into their faces, and Jeffrey didn't either. He shook his head and stopped trying to position himself against the cliff, just sat in the harness, hanging in mid air and bumping repeatedly, and rather violently, into the rock wall.
Alan lowered him safely into the pool.
"Fun, right?" I asked Jeffrey when he had waded over to me. He snorted.
The hike back to the lodge was much like the hike out, only we were more tired and the holes in my shoes had increased to five. Again, we straggled at the back of the pack. At one point, we completely lost sight of everyone else.
"Oh look," Jeffrey said, "They've left us behind."
"If we run out of food, we could go back and kill that turtle we saw."
"See, I was thinking of killing and eating you. And using your bag to float down the river."
I knew he was still a bit peeved about the waterfall fiasco. I tried to distract him. "I know, let's play a game. Let's name all the cocktails we can think of."
Jeffrey groaned. "That's not helping."
We were in hysterics most the way back, losing control every time one of us slipped, cracking jokes at our own expense. Jeffrey spent most of the two-hour hike in his high-pitched nasal voice, firing off an arsenal of wisecracks.
"I'm calling in the DEA. Government employee down! Evac to Hotel Cariblue's swim-up bar needed immediately! Vital: one giant pina colada. And a vat of ice, stat!"
Four new holes in my shoes later, we were back at the cabin. Each of us took a quick shower and then sank into our beds. The last thing I heard Jeffrey say before I fell asleep was, "At dinner, if I hear laughing coming from the staff area downstairs, I'll know what it's about."