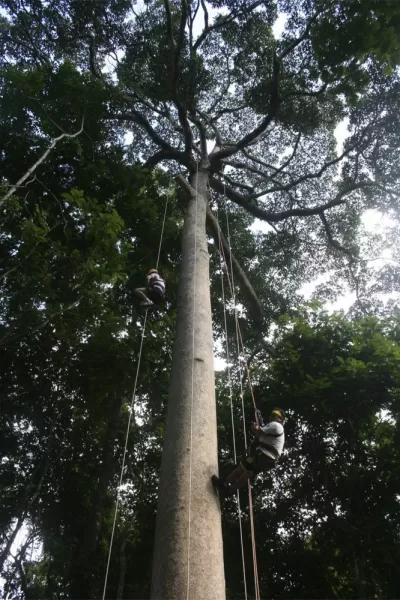 I grabbed the front seat in the raft before anyone else had the chance. If I was going to tumble down a river, I wanted a first-class view.
"Maybe someone else wants to sit in the front," Jeffrey suggested hopefully.
"They don't." I waved behind me. Phil and Priscilla of Florida, who were celebrating their 15th anniversary, were standing far back from the water, while the Spaniard was trying to keep his girlfriend from hyperventilating.
Jeffrey took his seat beside me with a sigh.
"Are there piranhas?" Phil asked and he and Priscilla moved forward and tentatively let the water wash over their feet at the edge of the river.
"Well," our guide said, squinting, "not piranhas exactly. Their cousins. But don't worry, they don't bite."
"Oh, good," Phil said. "They're the nice piranhas." But he let the guide lead him through knee-deep water to a middle seat.
We were supposed to sit on the bulbous edge of the raft, for freedom-of-movement purposes? For safety? I didn't know, but it seemed precarious. Apparently, Priscilla agreed with me, maybe too much, because she spent the entire journey squatting on the floor. When I twisted to look at her, the top of her helmet, about level with my waist, covered her eyes. She'd flip it back with a shake of her head and grin at me. Other boats of tourists swept past us as we drifted to the river's center from the drop-in point. They would raise their paddles, their hands, their cameras in greeting. From a safety standpoint, a populous river boded well. From a potential-embarrassment standpoint, less so. Though it was October, I made an early New Year's resolution: Do not fall out of the boat. I gritted my teeth and grabbed the anchoring rope that snaked along the sides of the raft, determined to follow through.
Rafting, I found, is like long, drawn on sentences punctuated by brief moments of terror. At least in Costa Rica, those sentences are full of descriptive words. Between the drops and twists where the water smashed against sunken rocks, as the river pulled us relentlessly but calmly downward, we had ample time to gaze about ourselves. Along the left bank, a chocolate horse paused in his drink long enough to raise his head and stare curiously at us. Also on the left, a waterfall so high it seemed to start as a trickle, but finished as a torrent, carving a path for itself out of the charcoal cliff face. Lush greenery on all sides, tangled up in itself, letting slip the calls of birds hidden inside.
How our guide picked out a path through the rocks was beyond me. He followed a line invisible to the rest of us, adjusting the direction of his paddle, leaning his body to the left and the right. He was, just as much as the seats and the safety rope, a part of the boat. That he could deftly manipulate a giant blue whoopee cushion propelled by six clueless, uncoordinated people amazed me, though I decided it was best not to think too hard about it. However, even Superman has his kryptonite – about halfway through the trip our guide underestimated his watery opponent, and we ended up lodged between – and I know it's corny, but I just have to say it – a rock and a hard place. Literally.
I shoved the rock face near me, thinking back to elementary school when I convinced myself I had super powers (flight and telepathy, among others).
"I will push," I thought now, adding super strength to my mental resume, "and I will free the boat and save the day and all will celebrate my name." In actuality, I think my efforts were futile. The guide, who had gotten out of the boat and found his footing nearby, gradually hauled us around, straining the tendons in his neck. He couldn't back us out of the channel because of the current, so he pushed us forward through too-shallow water, scraping the bottom of the raft over a steeply sloping rock. The tail of the boat climbed as its nose dipped lower and lower.
Somebody had made the mistake earlier in the day – while we were floating in lazy circles, waiting for our partner boat to catch up – of asking if anyone had ever died on the trip down the Pacuare River.
"Once that I know of," he replied. "A teenager fell out of the boat and was crushed between it and a boulder."
We had all been silent. I was still silent now, but was screaming in my head as the raft continued to angle. "They are all going to fall on me," I thought, as my head inched closer to the swirling water. I flashed back to my Girl Scout trip to Disneyland, when I was riding in the front of the log boat on Splash Mountain, on the crest, waiting for the plunge. "Hold me in tight," I had told my mom. Kindly, she had waited until we were safely at the bottom to ask me, "So, who was holding me in?" But Mom wasn't here now to act as a seatbelt. "Any minute now," I thought, "Any minute now we're going to tip and I am going to be crushed by a mass of bodies."
I might have been a bit dramatic. The raft, quite anticlimactically, broke free of the boulder and coasted back into the heart of the river. The rest of the rapids didn't hold any major surprises, and we congratulated ourselves on remaining raft-bound.
Near the end of the route, the guide suggested that anyone who wanted to could get out and swim alongside the raft.
"Really," he said, when no one moved, "you can."
Still, no one moved. I was tempted to stay in the boat as well, so as not to be odd man out, but then I mentally berated myself for being a sheep and tumbled over the side. I had wanted to swim this whole time and was not about to miss the opportunity now that it had presented itself.
"Take pictures," I called to Jeffrey. It had been a long week, but he was still willing to take pictures on command – a true gentleman. Photographs are my proof – to others, but mainly to myself – that I have had a good time. Though a poor representation of a real experience or place, they act, I've found, as doorways to memories. As I dog-paddled behind the raft, letting the current pull me along, I knew Jeffrey's $8 underwater camera wouldn't do this vista justice. We had entered the mouth of a gorge, and rocks rose steeply on either side, squeezing the river. A thin light tumbled down through the flora carpeting the rock face and ricocheted off the small ripples in the water. Above us, rickety bridges swooped across the river like deserted spider webs, wooden planks missing and frayed ropes – former handrails – swinging listlessly in the breeze. Ahead, the landscape grew lighter by degrees, promising that once we got through the next few bends we would be bathed in dazzling gold. As we drifted closer to the light – and to shallower waters – Jeffrey hauled me back into the raft by my life vest. I lifted up my face, closed my eyes and held my breath as I waited for the sun's full face to kiss my skin.
I smiled.